9 Out Of 10 Sens Fans Thought This Would Be An Easy Win For Ottawa... This Regular Thursday Night Game Turned Out To Be Anything But
by Brochenski
Well folks, here it is. Another installment in the Sabres-Senators rivalry that has been the equivalent of a wet blanket the past few seasons. The Sens enter this one just one point out of a Wild Card spot.
Even though Jhonas Enrothlisberger gets the start over Ryan Miller, Sens fans will still get to see some exciting players live from the Sabres such as Thomas Va-... no wait they traded him... ugh... Jason Pomi-... no what he's gone too... Matt Staffo-... no wait he's awful... ugh... *looks around for some papers to shuffle*... well ANYHOW Craig Anderson gets the start tonight.
Better buckle up your seatbelts for this one everybody, since you wouldn't want to hit your head on the floor if you doze off.
murray vs. murray (2014): a divorced man must learn to care for his own team, and must fight in court to keep custody of matt moulson
— Chet Sellers (@chet_sellers) February 7, 2014

1st Period
13:11 - For some reason the Sabres have one fewer player on the ice than the Sens for an entire two minutes. Sort of like what happened to the Sens several times against the Blues, but the opposite.
For the one or two of you expecting some serious analysis of the PP:
That power play was bad. #Sens
— Bruce Garrioch (@SunGarrioch) February 7, 2014
Bruce was right. The PP was bad.
12:27 - Neil takes a penalty, giving the Sabres their first PP of the game. Buffalo's top unit is not able to get their first shot of the game despite Colin Greening not having a stick for much of the PK. Should be an exciting game.
9:23 - Buffalo gets their first shot of the game, a weak backhand by offensive powerhouse Matt Ellis.
9:16 - Matt Ellis gets Buffalo's second shot of the game. Things are heating up!
The Ottawa crowd breathes a sigh of relief as Condra misses the breakaway pass.
— Bonk's Mullet (@BonksMullet) February 7, 2014
0:02 - Right before the end of the period, the camera's view is temporarily blocked by a fan's hand as he or she stands up to stretch. Pretty good summary of the period.
"This is a must two points for them." Spot-on analysis by Doug MacLean.
2nd Period
18:58 - Erik Karlsson dumps Stafford in front of an empty net to save a goal. Heck, I knew the Sabres were a bunch of pushovers, but this is ridiculous!!!!!!!!!!!!!!!!!!!!!!!!!!!
16:48 - In the offensive zone, Da Costa circles back to the blue line and passes to Karlsson on the right half boards. Karlsson rips a laser beam of a wrist shot top shelf on the short-side.
1-0 Team With A Murray As GM Team With No Stanley Cups Boring City Ottawa
14:22 - Varone hits'a the goalie, sending Ottawa to the PP. Not long after, Turris shows his team colours by taking a penalty to neutralize the PP.
8:48 - Surpringly, Ottawa gets another PP. Unsurpringly, their PP is cut short after Michalek takes a tripping penalty. Not really sure if there's some sort of a clause in the CBA requiring the Sens to do this, but it's sort of annoying. Surpringly, Buffalo gets a few good chances after Scott comes out of the box, but Anderson makes a few good saves.
anderson stopping pucks with the confidence of a man who's not going to have a russian spycam watching him pee this month
— Chet Sellers (@chet_sellers) February 7, 2014
Sportsnet just lost the construction worker demographic by asking its viewers to 'wake up early with us for Trade Deadline day' at 8am
— Sensei (@senssensei) February 7, 2014
3rd PerioMICHALEK SCORES
19:50 - Off the opening face-off, a Gryba pass takes a weird bounce off the linesman and ends up on Spezza's stick, who makes a great pass to Michalek.
2-0 Sens
15:51 - Spezza toe drags in front of McBain, then backhands it between McBain's legs and almost scores on Enroth, who was sitting on the goal line for some reason.
Spez has been listening to TSN 1200 you guys. He heard everything.
— TomSENS (@TomSENS) February 7, 2014
13:45 - An Ennis backhander goes off both posts and out. Karlsson takes a penalty just before the end of the PK, but the Sabres are shut out again. Leave it to the Sabres to be completely incapable of scoring on the Sens' horrible penalty kill.
The Canadian Tire Center crowd makes Carlingwood Mall seem lively.
— Bonk's Mullet (@BonksMullet) February 7, 2014
Get him!
10:25 - In Drew Stafford-like fashion, Drew Stafford falls behind the net. Unfortunately as Drew Stafford was falling Drew Stafford fell threw the puck out in front to Ennis. Just like everybody else watching this game, the net was yawning (don't h8).
2-1 Buffalo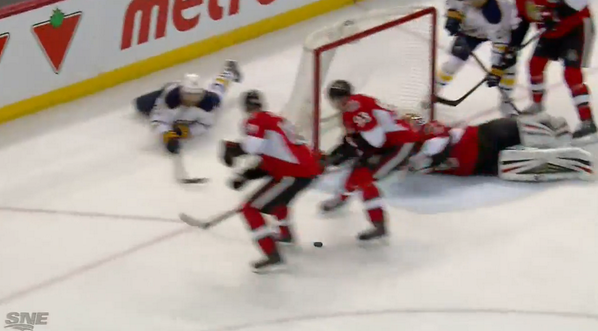 My good buddy Jason Spezza should have just slap shotted that pass outta the zone and everything like that! Let's go!
4:12 - Drew Stafford beats coverage in front and ties it up. Maybe having Cowen-Gryba out there to hold a one-goal lead late in the game wasn't the best idea.
2-2 Buffalo
2:05 - Karlsson makes a rush up the ice with Turris, who gets an excellent chance, followed by Ryan almost burying a rebound. Immediately afterwards, Karlsson makes another rush and gives it to MacArthur who gets a good chance.
0:29 - With three guys on him in the offensive zone, Spezza Keeps Calm And Passes On to Michalek, who scores on a beautiful shot to give the Sens the lead late in the 3rd.
3-2 Ottawa
0:16 - Condra takes a penalty, giving the Sabres a PP with an offensive zone face-off. Ennis takes a shot from the right side, followed by Ville Leino whiffing on an empty net from the top of the crease. Basically exactly how a Buffalo Sabres game should end.
Closing Comments