Sens Thrift Shopping: A Tale of Two Bloggers
by M. Night Shyamalan's Mullet

There will always be critics of social media. At times it seems like we're slaves to our devices; if we just looked up from our phones for one fleeting moment we'd witness the beauty of the world around us.
But when you're forced to live in Kanata, like the protagonists of our story today, the latter is not a possibility. In hard times, we must turn to social media for those special moments that make life worth living.
On Saturday, July 13th, from the (relative) safety of my own home (I live in Philadelphia), I bore witness to one of the greatest moments in "Sens bloggers go outside" history. Please, get comfortable, take a seat by the fire, and enjoy the story after the break.
Recommended listening: "So What" by Miles Davis
It was a muggy summer day in Kanata. A man known to me only as
WTYKY
(
Welcome to Your Karlsson Years
) set foot into the local cultural hub: Value Village. Naive to his role as catalyst in something much bigger than he ever could have anticipated being a part of, he sent out a simple tweet:
ATTN:

@BringBackLee

/ whoevs, Autographed Lalime jersey up for grabs @ Kanata value village (adult small)
If you're not a follower of BonksMullet.com writer
@BringBackLee
(who changes his Twitter handle more regularly than Spezza hits the IR), you should know that he's a big jersey collector.
It's borderline problematic
. The chance to get his hands on a jersey that had also been held in the hands of Patrick Lalime (unlike most pucks) was an opportunity he couldn't pass up.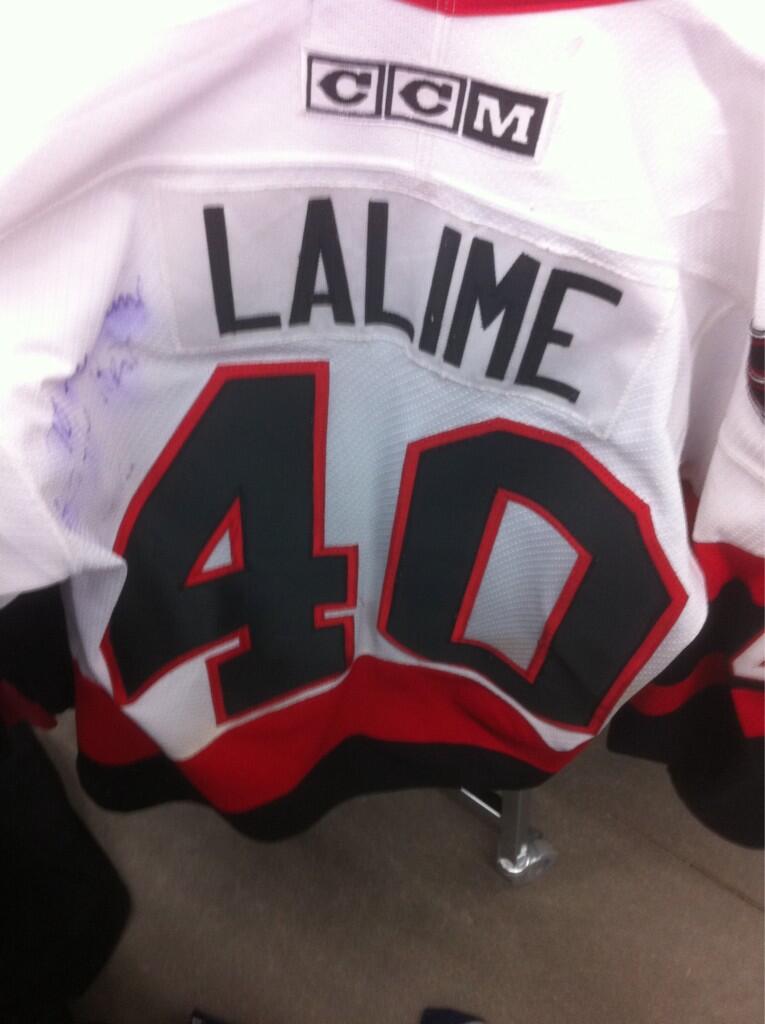 Exhibit A: Photo of the jersey via WTYKY's Twitter. Potentially game-worn as there are 0 puck marks on it.
The mere sight of the jersey sent Mr. Lee through a whirlwind of emotions. Overwhelmed, he tweeted such moving words as "WANT!" and "HOLY CRAP!" It's evident from his eloquent wordsmithery that hockey jerseys act as Mr. Lee's muse.
@BringBackLee mens activewear (you can't miss it) there's also a medium white side profile sen in great condition you could customize :)
— WTYKY (@wtyky) July 13, 2013
Ah, men's activewear, the setting to any moving story.
So, if this were any other hockey team's blogosphere, the story would have ended here. Lee would have entered the Value Village, purchased the aforementioned jersey, and returned home, blissfully content with his purchase. But if we've learned anything this summer as Sens fans, it's to expect the unexpected, and to be completely devastated when absolute certainties in life fail you.
@wtyky please block this follower of yours, thanks! pic.twitter.com/gOFaqpVAqE
— Kevin Lee (@BringBackLee) July 13, 2013
What a cruel and unexpected twist of fate. Merely seconds before he arrived, another gentleman snatched up the jersey. Defeated, Lee returned home, believing his thrift shopping saga to be over.
Nobody could have expected what awaited Kevin Lee on his Twitter feed upon his return home. Here's the twist of the story.
Cue the Inception music
and prepare yourselves for the unthinkable:
@wtyky @BringBackLee hi haters! pic.twitter.com/RMmTarf0iK
— Chet Sellers (@chet_sellers) July 13, 2013
This man, ladies and gentleman, is famed BonksMullet.com blogger and internet legend
Chet Sellers
(whom Lee has never met). Sneaking into Value Village faster than he arrived on the Twitter scene, Chet,
known internet troll
, pulled off a jersey heist for the ages. For a mere $40, Chet purchased the Lalime jersey at $10 cheaper than the blank jersey next to it, but any man or woman would have paid infinitely more to guarantee the inevitable crippling disappointment of a friend.
And so our story ends, not with one mad's sadness, but with one man's triumph, and along with it, the rest of the internet standing for rapturous applause. So to Chet, we tip our caps, and extend the only congratulations we know how to give:
And to Kevin Lee, the Erik Condra of completing jersey purchases, I leave you with these three words:
Ya blew it.