Game Summary - Game 44: Senators @ Canadiens - Is That A Bat?
by Chet Sellers
Here's something - for two teams that are supposed to be developing a vicious rivalry, the Ottawa Senators and Montreal Canadiens have only played each other once over the first half of the season. You might remember that game as the night this happened:
"God Jul," said Lehner, getting an early jump on the holiday season.
Considering these are two division rivals who play five times this year, one game in half a season seems odd, doesn't it? In fact, I'm pretty sure I remember these two teams playing five times in a
week
last year! Yep, according to Wikipedia, they did! And apparently this happened:
"It was a crazy night, man. We all went home with somebody else's gloves."
In any event, starting tonight, the Senators and Canadiens play twice in two weeks and four times before the end of the season. Ottawa comes into the game having won three in a row, only the second time they've achieved that feat all year - the first time was almost two months ago, and during that streak you might remember this happening:
Shortly after the exchange above, #BourqueFacts failed to trend on Twitter.
In other words, two things have been happening recently when the Senators and Canadiens meet - conflict, and a Senators victory - but will those trends continue tonight? Let's find out in another fair, even-handed recap!
First Period
We start the game expecting the usual tough, physical game from these two teams. What we get instead is a Senators goal in the first thirteen seconds, as Colin Greening buries a beautiful feed from Erik Condra on an early rush.
1-0 Senators
, and the Bell Centre crowd is so shocked that their collective intake of breath loosens a bat from somewhere underneath the arena. The bat spends the rest of the period flying around the rink terrorizing patrons, until Canadiens management declares it part of the team's heritage and hands the bat a torch for it to drop on a small child during the next Canadiens pre-game ceremony.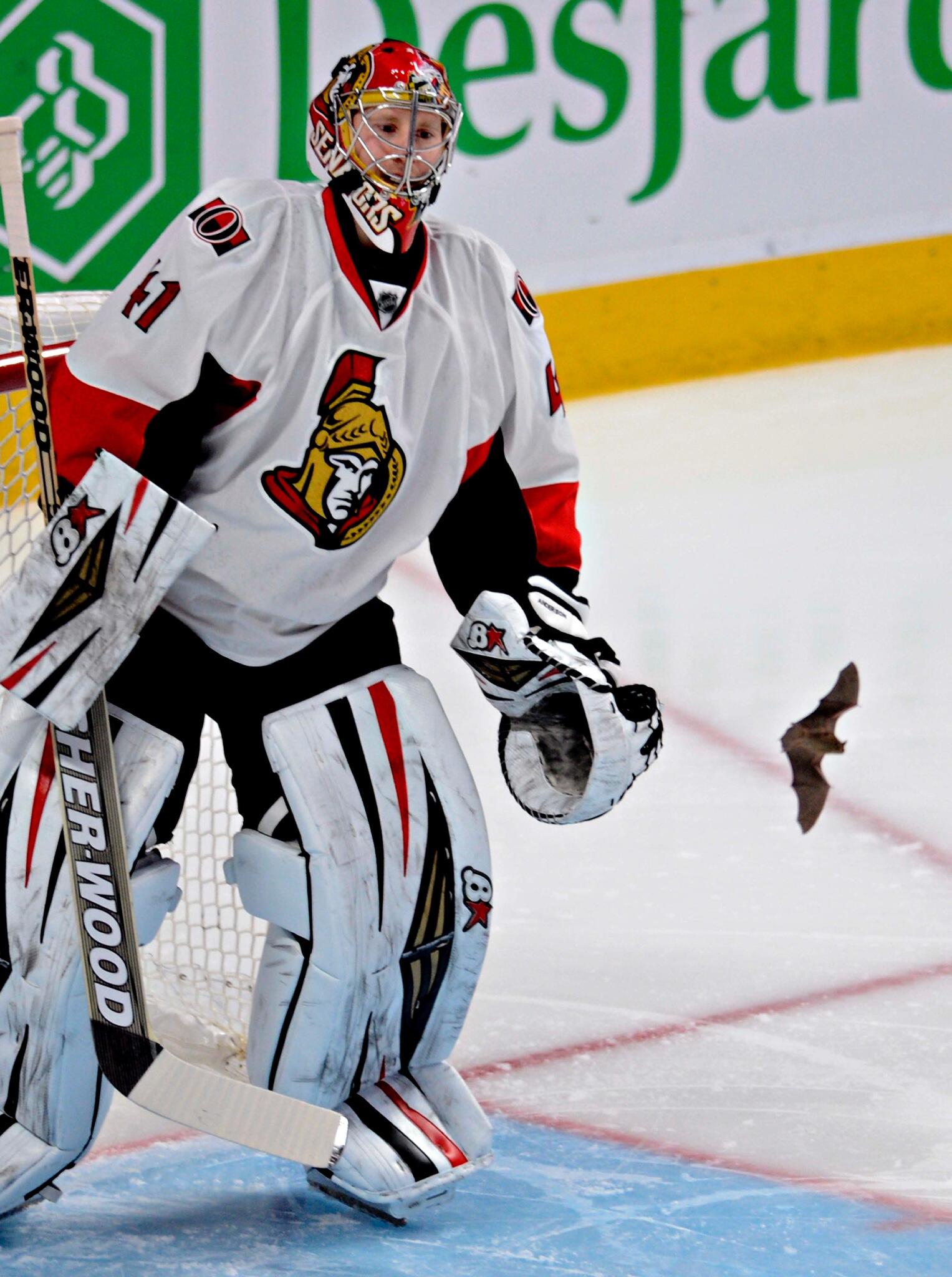 "When Montreal is ashes," said Anderson, "then you have my permission to die."
Two minutes later, however, it's Condra changing the course of the game again as he sends Brandon Prust to the Canadiens dressing room with a high-stick that earns him a four-minute minor. Condra tries to argue the call, claiming he was only trying to cross-check Prust and missed by the usual two feet. Montreal can't get much going early on the ensuing power play, but after three minutes it looks like Rene Bourque puts one past Craig Anderson for a good goal, only to have it waved off owing to an early whistle. The Bell Centre crowd is outraged.
Clarke MacArthur wasn't a member of the Senators team that beat the Canadiens in last year's playoffs, but he's clearly seen the tapes of how Ottawa kept Montreal bottled up, as he immediately takes a tripping penalty to put the Senators on a 5-on-3 penalty kill. As was the case last May, the Senators subsequently kill off both penalties without incident. The Bell Centre crowd is outraged.
Eleven minutes in, Daniel Briere finally solves Craig Anderson by chipping away at a puck that deflects off a Chris Phillips block in the crease, making it
1-1
, but the tie doesn't last long as two minutes later Mark Stone steals a puck at the blue line and breaks in on net, putting a chip shot past Price to make it
2-1 Senators
. It's Stone's first NHL goal, but even more remarkably, it's credited as Matt Kassian's first NHL regular-season assist, finally giving him a hard-earned Gordie Howe hat trick for his career. The Bell Centre crowd is outraged.
Fourteen seconds later, it's Erik Condra again, firing a wrist shot from the circle that looks like it's going about two feet in front of the net until it banks off Francis Bouillon and in,
3-1 Senators
. "I've got it," says Paul MacLean. "Condra! I've figured out how to make you a 50-goal scorer!" He hands Condra
this book
. The Bell Centre crowd is outraged.
Second Period
Although the first period was characterized by quick scoring, wild end-to-end rushes, and a child's treasury of chirping from both sides, things settle down in the second period. In fact, the only event to make the scoresheet is a Marc Methot penalty that the Senators kill off. "Have you thought about putting the bat on the power play," Canadiens management asks Michel Therrien at intermission.
Third Period
The pace picks up in the third but it's all Montreal; two minutes in it's Daniel Briere again, taking a pass from behind the net and putting it behind Craig Anderson from the corner of the net. That makes it
3-2 Senators
for three minutes before Brian Gionta taps in a loose puck in a scrum in front of the Ottawa net to make it
3-3
. The Bell Centre crowd is outraged.
If the first half of the third is all Montreal, though, the second half is mostly Ottawa, with the Senators' energy coming primarily from bottom-six players like Condra and Jean-Gabriel Pageau. In fact, it's Condra with the big play again, drawing a P.K. Subban penalty during a last-second rush on the Montreal net; although the Senators aren't able to score in regulation, they do go into overtime with almost a full 4-on-3 penalty. The Bell Centre crowd is outraged.
OVERTIME
Remember what I said about Clarke MacArthur watching game tapes from last year's playoffs, presumably while he was being scratched by the Leafs? He clearly paid particularly close attention to Kyle Turris' overtime winner in Game 4, as a minute into overtime he wires a shot past Carey Price to make the final
4-3 Senators
. "Yeah, I saw I had a missed call from Clarkie," Randy Carlyle says during his post-game media availability after Toronto's 7-1 loss to the Rangers this evening. "No, I haven't called him back."
As MacArthur and his new team celebrate, P.K. Subban leaves the penalty box and skates back to the dressing room, practicing his media lines for Tuesday's announcement of the Canadian Olympic roster. "Just an honour to have been considered," he whispers. "Testament to our country's depth," he continues. "I'm sure those guys will do a great job over there in Sochi, and I just have to keep focusing on my own game." Somewhere in the bowels of the Bell Centre, Erik Karlsson zips up his onesie and smiles. Somewhere in the rafters, a bat relieves itself.
Four in a row! See you next time!