Game Summary: The Sens Fly Mile High and then Die (in Denver)
by Bonk Bong's Mullet
Good evening Sens fans! I've been on hiatus for a few weeks while attending the Winter Classic in Ann Arbor, so it's good to be back. The Senators and Avalanche were in action on Wednesday night in their annual competition for the I Guess We Have To Put This Game On The Schedule Cup. And what a night it was!
Here were the storylines heading into the game:
The Sens appear to be riding a 4 game winning streak. How long was I gone for?
Craig Anderson played his first game back in Colorado since being traded for the S.S. Elliott.
Patrick Roy recently said of Jean-Sebastian Giguere, "Jiggy needs to be better. He hasn't played well in the last four or five games. He should stand up and say, 'I'm not playing up to what I should.' And he did not. He needs to be better, and we need him playing better. Period," which is the nicest thing Roy has ever said about one of his players. Varlamov was given the start.
Jason Spezza made his return to the lineup this evening. The captain missed the last 4 games due to a hip injury, which he obtained by crashing his fixie into a thrift store.
Marijuana is legal in Colorado.
Here were the lines, which surprisingly lasted the entire evening:
MacArthur - Turris - Ryan
Michalek - Zibanejad - Conacher
Stone - Spezza - Greening
Kassian - Smith - Condra
Cowen - Karlsson
Phillips - Ceci
Methot - Gryba
With Mark Stone's tree stump legs and Jason Spezza's wonky back, it's assumed that Colin Greening was included on the third line solely to be stripped down for parts.
1st Period
Now, I'm not saying the Sens are a predictable team, but let's just say that the next 5 points could have been copy and pasted from any of my other game summaries against Western Conference opponents this year. In fact, I had a template prepared before the game even began.
[Cory Conacher] takes a [tripping] penalty on [Colorado] player [Cory Sarich], sending [the Avalanche] to the power play.
The Ottawa Senators most likely regret letting UFA defenceman [Andre Benoit] walk this offseason. [Benoit] has been surprisingly effective on the [Avalanche] powerplay.
Ottawa goes down 1-0 early off a power play goal from [Jamie McGinn]
Minutes later, [Jan Hedja] scores to put the Senators down 2-0. [Senators starting goaltender] really has to be more reliable in the opening minutes.
Thankfully the MacArthur-Turris-Ryan line gets the Sens back in the game. [Clarke MacArthur] scores on a one timer in the slot from a great feed from [Bobby Ryan], closing the gap to 2-1.
And then the game goes off the rails...
Denis Potvin claims Erik Karlsson tripped skating backwards near the end of the second due to "Pygmies shooting poison darts." The camera cuts to the bench as Paul MacLean places his hand on Gryba's shoulder. Gryba lowers his weapon.
Potvin explains his mindset minutes later when he says, "5280 feet. Straight up in the air is how high we are." So it's going to be one of those nights.
I start to question my own sobriety when I witness this Karlsson hipcheck on MacKinnon:
The Avalanche go 10 minutes without a shot, which is longer than anyone lasted in the Sens press box, according to Alexei Kovalev.
In the first intermission, the Sportsnet panel proclaims, "That's where a lot of the goals are scored against Colorado, folks: In front of their own net." Topics in the second period intermission will include "Teams prefer not to be called for penalties", "Why goaltenders should save the puck", and "Oh God we have to fill 12 years of intermissions."
After going down 2-0 early, the Senators totally dominated the rest of the period, setting the stage for an exciting game.
it's like five minutes into this game somebody told the senators possession is legal
— Chet Sellers (@chet_sellers) January 9, 2014
2nd Period
Two minutes into the second, Tyson Barrie learns the hard way that you can still be penalized for a trip in Colorado.
Okay, let me be blunt. From this point forward the summary is pretty much just going to be drug puns, so don't say I didn't warn you in advance, officer.
On the ensuing power play, the Senators hit the pipe more times than Rob Ford at a flutist convention.
After Corey Sarich is called for a slash on Colin Greening, Jan Hejda takes a 2 minute delay of game penalty for burning one out into the lower bowl.
On the 5-on-3, MacArthur hooks up Spezza for a dope backdoor tap-in to tie the game at 2.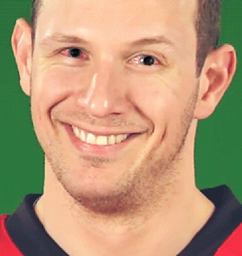 "Back pain isn't the only chronic I'm feeling."
Just as the second power play is expiring, Mark Stone cooks up a one timer for his bud Kyle Turris who smokes it top corner.
Twitter made lots of jokes:
"Nice pass, Stoner" said Turris as all 18,000 in attendance respond, "Thanks!" in unison.
— Bonk's Mullet (@BonksMullet) January 9, 2014
@BonksMullet it might be because they've been rolling 4 lines......?
— TomSENS (@TomSENS) January 9, 2014
@BonksMullet Sens have weeded out their mistakes, but it's high time they pot a couple more before their lead goes up in smoke. #sorry
— Michael Woods (@michaelrwoods) January 9, 2014
@TravisHeHateMe @BonksMullet @SensChirp that line's chemistry shows they're great buds.
— JayZito (@JayZito) January 9, 2014
Funny how the sound of a puck going off the post in Colorado now sounds like "BONG".
— Ian Mendes (@ian_mendes) January 9, 2014
@ian_mendes if we had a dime for every time they hit the post tonight...
— Chet Sellers (@chet_sellers) January 9, 2014
Everyone in Colorado keeps telling Kyle Turris to slow down and mellow out.
— TomSENS (@TomSENS) January 9, 2014
The #Avs look disjointed #Sens #420
— Sens Call-ups (@SensCallUps) January 9, 2014
@TravisHeHateMe @SensChirp Anyone else feel as though @BonksMullet should pipe down a bit?
— Jake Gambier (@JakeGambier) January 9, 2014
Okay.
3rd Period
Up 3-2 going into the 3rd, the Sens should have been able to pull off the win as long as they played disciplined four twenty. (h/t @SensCallUps)
But rather than sitting back on their lead, the Sens continued to light up the joint for the majority of the third. Unfortunately after about 13 minutes of solid possession, the Sens looked completely burnt out.
After hitting the post at least 4 times in the dying minutes, it was clear the Avalanche were Jonesing for a goal. Paul Stastny played the role of buzz kill as he finished off a Landeskog scoring chance to tie the game at 3 to send the game to overtime.
Overtime
A mere 33 seconds into overtime, while Anderson and Karlsson were reduced to performing an interpretive dance routine in the crease, Tyson Barrie scored from the slot to pot home the winner.
Somewhat Serious Words at the End
I'm sorry about the terrible weed jokes. We at Bonk's Mullet are always looking to expand our readership.

Expect the post-game interview from MacLean to include the words "full", "sixty" and "minutes." The Sens looked to be playing some of their best hockey of the season for about 45 minutes, but this was book-ended by some of their poorest hockey to both start and finish the game.

This game was also marked with some of the strangest officiating I've seen in a while. I was worried the refs had clouded their judgment by re-fashioning their whistles during the third period, but the puffs of smoke were confirmed to be coming from Patrick Roy's hears.

Now please excuse me as I take after my idol Bobby Ryan and go to sleep.