Game Summary: Game 47 - Sens Gone Wild
by Bonk's Mullet
Good morning or afternoon or night, Sens fans! The Senators were in Minnesota on Tuesday night to take on the Wild. Not only was
Eric Gryba
extremely disappointed to learn that this meant for a hockey game, he was also shattered to hear he wouldn't be in the lineup.
Robin Lehner got the start for this one in order to rest Craig Anderson for Thursday's game against Montreal, although after watching this game, I'm fairly certain Anderson would have been more rested had he have played.


Matt Kassian made his return to Minnesota, looking to find the scoring touch he once had with the Wild. 2 out of every 3 Kassian goals have come while playing for the Wild. So literally 2 out of 3.
Dany Heatley got to take part in the semi-annual hatefest that has become a proud tradition for Sens fans...and media:
Heatley made himself disappear before the media came in the room. He will not be available today. This is my shocked look. #sens
— Don Brennan (@SunDoniB) January 14, 2014
But I'm sure the hate for Heatley has died down by now right? Let's go to our friend Don in Oakville who has managed to look beyond Heatley's ugly past with the Senators, assessing Heatley as the true leader that he is:
Fitting with Parise out the Wild chose Heatley to fill the A hole.
— Don in Oakville (@Don_inOakville) January 15, 2014
Let's play some hockey!
1st Period
Early in the first, Zibanejad skates the puck out from behind his own net and performs a stretch pass to Erik Karlsson. Minnesota Wild fans and announcers double check their score sheets to confirm everyone's position.
Nino Niederreiter? Well tell Nino this site doesn't have any quality ones! Ha, because his name sounds like... I'm sorry.
Now, I know Robin Lehner has been asking for an increased role with the team, but this is just ridiculous.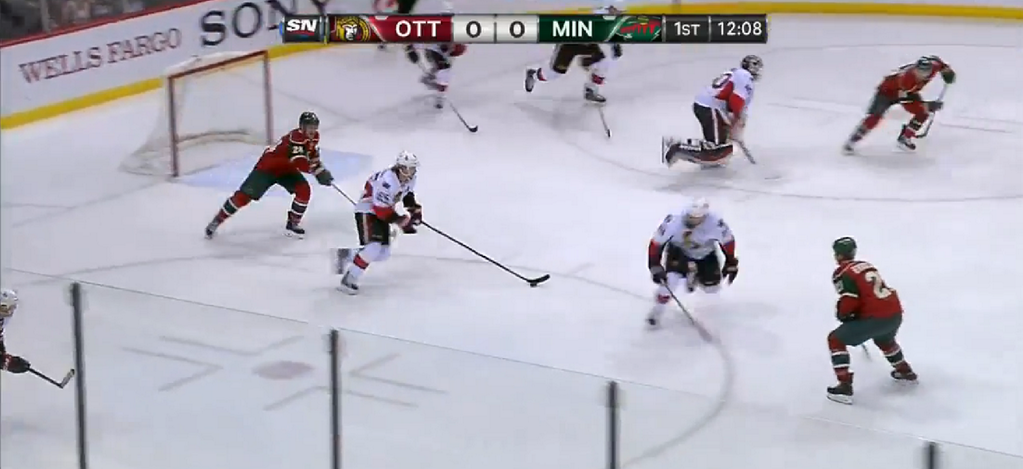 Brings a whole new meaning to extra attacker. Because he's violent.
As Denis Potvin tells us that there's "good hockey breeding going on in Shawville," Bryan Murray frantically reaches for the phone: "They're onto us. Shut it down. Shut it all down."
Karlsson draws a double minor on a high stick from Granlund, drawing blood. As each drop of blood that hit the ice transformed into a dire wolf-like creature, Erik realized he'd finally have to come clean about the PEDs.
Time for your nightly Turris to MacArthur scoring update: Kyle Turris passed to MacArthur and he scored. 1-0 Sens.
Jason Spezza winds up a shot and hits Bobby Ryan in the head. Bobby Ryan falls to the ice, but looks up in amazement. "I-N-T-E-N-S-E" he cries, as all "just hit him in the head again" 90's sitcom episodes are finally validated.
Erik Karlsson trips up Dany Heatley, and the Sportsnet microphones catch the ensuing dialogue:
"That's a fucking trip!" said Heatley of Erik Karlsson. "That's a fucking dive!" said Erik Karlsson of Dany Heatley's point totals.
— Bonk's Mullet (@BonksMullet) January 15, 2014
2nd Period
What do you see when you look at this picture?
Your first thought is "a fancy pimp chalice of some sort," but when you look harder, you think "oh well I guess there's actually two faces there too."
What do you see when you look at this picture? Surely you see either a rabbit or a duck, or maybe you believe in a world where it's both.
Finally, what do you see when you look at the Minnesota Wild logo?
If you're anything like me, you saw an abstract triangle shape with a sun or moon and a star and some trees and a river. You never really questioned the fact that an NHL team would use something so abstract as their logo when there are two NHL teams with winged wheel logos, and another with a winged musical note.
Imagine my surprise when someone finally showed me this artist rendering:
It was like the heavens opened up and all of God's wisdom poured down on me (I'm not sure if this will offend or increase my religious readership). Apparently the team says the logo isn't technically a bear's head, but a "wild animal" but you get the point. How could I have missed this? Was I alone? It seems so obvious to me now.
I was not: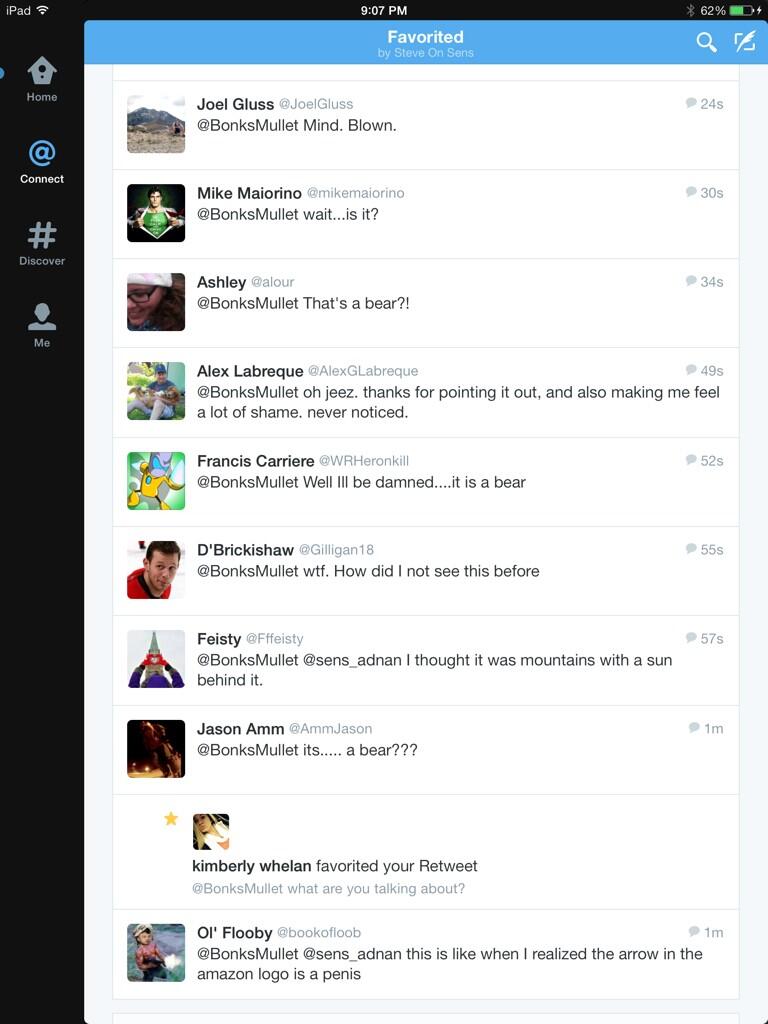 My point is, nothing interesting happened in the 2nd. Even the official Sens Twitter account thought so:
@BonksMullet hashtag analysis
— Ottawa Senators (@Senators) January 15, 2014
3rd Period
To illustrate how awful the second period was, the Sportsnet crew actually, seriously, showed highlights of their bowling game from the night before. I'm not making this up. Bowling.
Speaking of gutter balls, Erik Condra got a breakaway. Before you watch the following GIF, please ensure that you are sitting down, your seat belt is fastened, and your arms and legs are securely inside the vehicle.
wat
I must be dreaming. What was that? What's going on? Who am I? I feel like that "David After Dentist" kid after seeing this one. 2-0 Sens, maybe, if that was real life.
The Minnesota Wild just learned that if you knock Erik Condra sufficiently off balance, he will finally hit the net.
— Bonk's Mullet (@BonksMullet) January 15, 2014
Good joke Bonk! Here's a joke that I didn't write
@SensChirp Scandella helped, actually. *grabs Condra's arm* "No, shoot like this." cc: @BonksMullet
— Anatole Papadopoulos (@anatolep) January 15, 2014
Near the end of the game, Ryan Suter takes a tripping penalty on Clarke MacArthur. On the ensuing power play, Jared Cowen feeds one over to Kyle Turris who winds up for what I want to call an "Alfie-like" clapper. Dean Brown was so caught off guard by the goal that his call was simply, "scores." No exclamation point needed. Clearly Dean was still shaken from the Condra goal.
Words At the End
This game was really terrible.
That game was so bad I may not need to take the NyQuil.
— Ian Mendes (@ian_mendes) January 15, 2014
So boring in fact, that my girlfriend might leave me. (Bonk's Mullet's blogger license is immediately removed for having a girlfriend)
Best girlfriend pic.twitter.com/OntaV5lq5O
— Maria Camacho (@Mariia19) January 15, 2014
But we won! Now excuse me, as I'm off to print a stack of "I survived Sens-Wild" t-shirts.