Game Summary: Game 20 - Ottawa loses 4-1 to Bob Rossky
by Bonk's Mullet Bob Rossky
Why hello there my pretty little readers. If you're new to the program, I'm Bob Rossky, the number one painter on the force.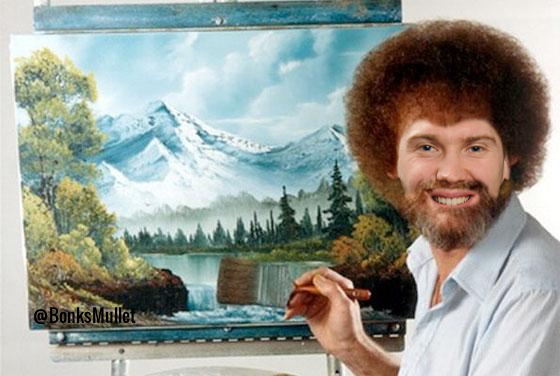 How nice of you to join us. It's truly a pleasure for you to let me into your homes today. I'm sure you're familiar with my work as the creator and host of
The Joy of Painting
as well as some of
my more recent work
. Let's open our minds up and dive into our own happy little world of hockey.
When you're painting, the world can be any way you want it to be. In Bob Rossky's world, that's a 1 PM Sunday afternoon tilt between the Blue Jackets and the Senators. Join me as I paint a masterpiece over the course of 60 minutes.
I suggest watching this to get in the mood:


1st Period
I'll say right off the bat that I like some peace and quiet when I'm painting, which is why I've set up my easel in the middle of the 100's section at the Canadian Tire Center.
Now I'm a man of manners, but I couldn't help but giggle a little bit when friend of the show Dean Brown said "Tyutin can't hold it in." I'll slap a little burnt umber onto my canvas but you can go with any shade of brown you'd like.
My fuzzy little friend Marc Methot took a holding penalty five minutes into the game. If Marc watched our show, he'd know I always say go for a lighter grip. Love the brush, don't fight it.
This commercial on the television set told me to "Light a mup." Now why would you go and do such a thing? The woodland creatures are our friends.
On the power play, Ryan Johansen dipsy doodles right into the slot and whizzes one past Craig Anderson. Now I don't want to spoil the outcome of the game with my choice of paint colour, but I've decided to paint the goal light this afternoon with "permanent red." 1-0 Blue Jackets
Derek Grant moseys on in for a breakaway, but shoots the puck wide. But as I always say, we don't make mistakes, just happy little Erik Cond-cidents.
Well bless my stars. Chris Neil was hit in the face again for the second time in a week and had to leave to the dressing room to fix up that pretty little mug of his. Now call me a big ol' wuss, but here's a painting of how I think Neil should suit up for the next game: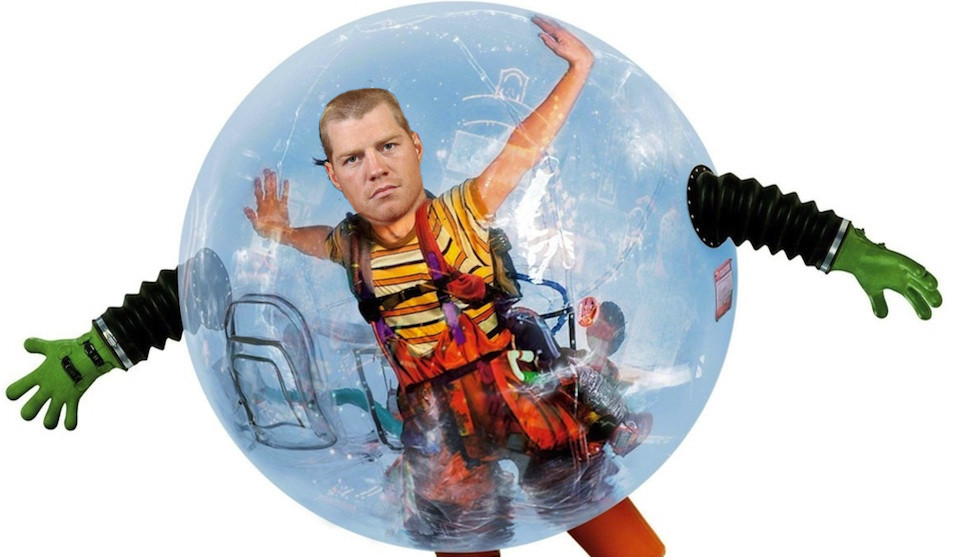 Maybe in your world Chris Neil doesn't play at all, but that's your prerogative.
In the intermission, Sportsnet's Doug MacLean says the Sens need better dumps. Better restock my burnt umber before the second.
Here's a look at my canvas after the first period:
My empty ol' canvas after one period
2nd Period
My ol' buddies Denis and Dean spent the first five minutes of the second discussing the weather in Chicago. Oh boy is that city windy. Windy, windy city. Shwoop shwoop goes the wind, just like my brush. Now I hear it's raining there too, but the wind will just lift your little umbrella away. That's why I always wear a rain coat. A bright yellow one. Makes me feel like a cute little ducky. Quack quack. A little rubber ducky. That's what I always say.
Mean ol' Brandon Dubinsky tugs at Erik Condra like he's a big ol' tub o' Gatorade. We can't be havin' shenanigans like that now can we? Two minutes for hooking.
Remember, this is your world, so you can put as many aging veteran defensive defencemen on the power play as you want. Surprisingly, the Senators can't convert.
The Senators defensive style looks a lot like how I like to paint my clouds: very, very free. Free as a bird. Free as a bird in Chicago. Windy, windy city.
Mark Borowiecki gets called for a hit that's cleaner than my newest brush and RJ Umberger scores on the powerplay. 2-0 Blue Jackets
The 300's are so empty that I think I see a little r'coon up there. Maybe a possum too. Beautiful little critters.
While killing a 5-on-3, the Sens put out Derek Grant, Jared Cowen, and Chris Phillips to kill the penalty. In your world, you can paint them however you want, but in my world, I'm going to paint them as three majestic, immobile spruce trees. Poor ol' Chris Phillips broke a twig and Fedor Tyutin snuck one past Anderson to make it 3-0 Blue Jackets
Here's my canvas after two happy little periods:
Things are really startin' to come together
3rd Period
Now I'd love to tell ya that things turned around for the Senators, but I'd be lyin' to ya, and I'm not a fan of liars. That's why my best friend is a squirrel. A squirrel never lies. When you ask you where his nuts are, he'll show ya. Fuzzy little guy. Sometimes he sits atop ol' Marc Methot's head: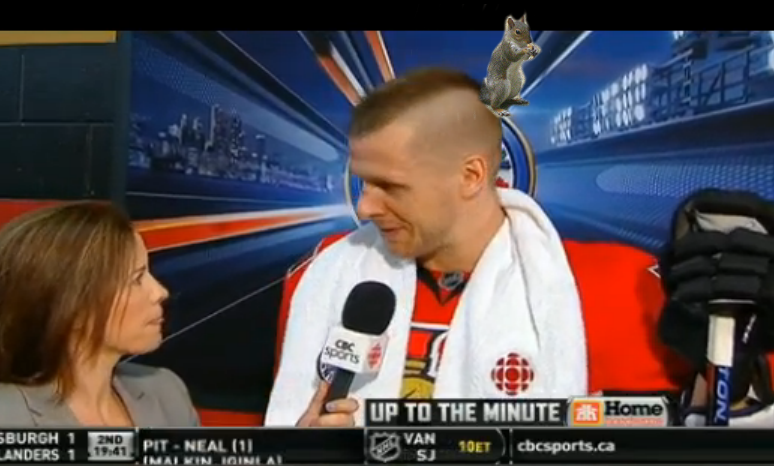 Cute little critter ain't'e?
Things go straight to Agony City as Derek MacKenzie scores on a lazy little play by Erik Karlsson. But I don't blame him. I'm quite lazy on Sundays too. Lazy little Sundays floatin' down the lazy little river. I love paintin' lazy little rivers. Just let your brush floooow across the canvas like Erik Karlsson's hair. Yeah, just like that, nice and greasy. Greasy little floaty river. 4-0 Blue Jackets
The four goal lead may seem like an insurmountable mountain, but in my world, it's actually four insurmountable mountains.
The attendance was announced at just over 15,500 at the game. Now you know how much I love my fan brush, and you'd better pull yours out too, because we're going to spend the last 10 minutes of the game trying to paint fans into the empty seats.
I'm not typically one for religious imagery, but I think a lil' bit o' light broke through the roof of the Canadian Tire Centre when Erik Karlsson scored late on the power play. Or it could have been that dirty ol' possum biting through the roof. Nasty little devil. 4-1 Phthalo Blue Jackets
Here's my final masterpiece. As usual, I completed it in about 14 minutes:
Closing Thoughts
The game ended 4-1 for those travelin' road Jackets. Such tricky little creatures. Ya never know when they're just gonna sneak up and bite ya.
Sneaky little woodland critter
I always say any time ya learn, ya gain. This time is just like any other. In painting, you have unlimited power. You have the ability to move mountains. You can bend rivers. You can make Chris Phillips seem like a competent power play defenceman. But in real life, sometimes we don't have that power. You can't have it any way you want it to be. Sometimes you gotta play Erik Karlsson 60 minutes a game. And that's why I stick to paintin'. Safe ol' paintin'.
Thanks for inviting me into your homes. It was a real pleasure. As always, I'll wrap up this post with a signature. Toodle-oo.