Game Summary: Sens beat Tim Thomas and the Panthers in only 2 minutes
by Bonk's Mullet
A quick glance at Luke Peristy's
Eight Types of Ottawa Senators Home Games
tells us that Saturday afternoon's tilt against the Florida Panthers qualifies as a...
*scans page*
... "The American team absolutely no one cares about or will ever care about game!" Fantastic! Let's see how this one panned out.
1st Period
Only 1:45 into the game, Bobby Ryan forces a clean turnover at the Panthers blue line. After an initial save off the scoring chance, Ryan dished the puck off to Turris, whose top corner snipe made Tim Thomas reevaluate his position on gun control. 1-0 Sens
The Panthers have become infamous for their ticket giveaways over the past few seasons. They're currently running a promotion where they give away free tickets to fans after every home win. Perhaps not coincidentally, the team on the ice is running a similar promotion where they give away a free goal after every time the opponent scores. After a Matt Kassian scrap, Zibanejad banks one in off of Gudbranson and suddenly it's 2-0 Sens after 2 minutes.
Tim Thomas's net after two minutes of play. Thanks Obama. (Photo by Kevin Lee)
I'm surprised it's never mentioned by the media, but sometimes Erik Karlsson takes risks that are considered defensively irresponsible. Four minutes in, his biggest mistake wasn't turning the puck over, but relying on Jared Cowen to provide any sort of relief in the back end. Cowen lets Nick Bjugstad walk in front and right around Lehner, to make it a 2-1 game.
In a move that drew the ire of Sens fans, Paul MacLean made the decision to bench Erik Karlsson for most of the remainder of period, leaving him with only 4:16 in ice time after the first. In the first period intermission, MacLean apologized, admitting he left his glasses at home and confused Karlsson's nameplate with Kassian's.
At the end of one period, the Sens outshot the Panthers 12 to 11. Sens fans could not contain their joy.
I've never seen a GIF capture the reluctant excitement of Sens fans so perfectly.
2nd Period
To open the second, Mark Borowiecki knocks the bark off Alex Barkov. Scottie Upshall challenged Borowiecki with a fight, and like a Jeopardy board, Borocop had all the answers.
"Your move creep." - Borocop
After Upshall was penalized for instigating, the Panthers took an infamous "Puck Over Glass" penalty.
On the ensuing 5-on-3, with the entire crowd yelling "Pass! Pass!" Clarke MacArthur ignored their wishes and snuck one past Thomas. 3-1 Sens
And the crowd goes mild!
A relatively uneventful period meant it was anecdote time from Dean and Denis. First, Dean let the audience know that Robin Lehner has "The Lehner" inscribed on all of his equipment, although I'm fairly certain nobody has ever gotten close enough to confirm this.
Minutes later, it was reported by Dean Brown that the real life Radek Bonk plans to move back to Ottawa after he retires from the Czech league, which could be as early as this off-season. Consequently, I am proud to announce two campaigns being launched simultaneously: The first is #BonkMeetsBonk; we at Bonk's Mullet plan to do everything in our power to arrange a meeting between the real Radek Bonk and yours truly, the man who stole his image. The second campaign is Radek Bonk's pursuit of a restraining order on me. May the best man win!
3rd Period
In what seems to have become a nightly tradition, Robin Lehner is caught napping, but not in the figurative sense. Can't blame him after facing only 28 shots: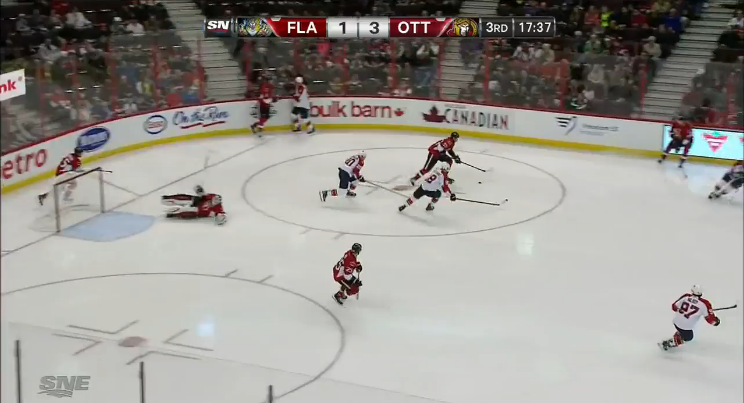 "Paint me like one of your French Lehners"
Chris Phillips and Chris Neil continue to lead by example and both take penalties in quick succession. Despite having their leadership core and top penalty killer (by TOI) in the box, the Senators managed to kill off the 5-on-3.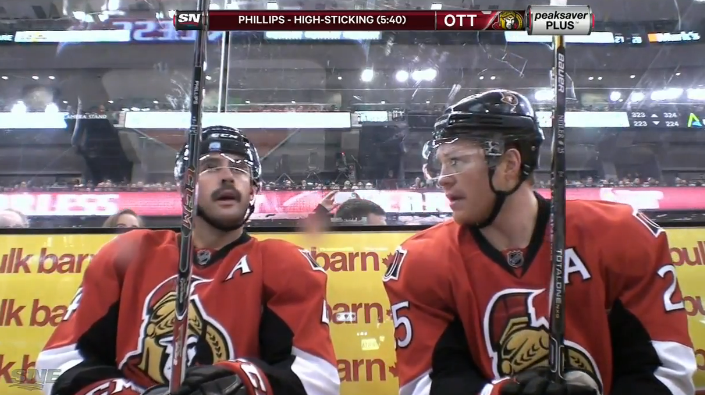 "Hey man if you're not going to pay rent in here you could at least help with the chores. These penalty box cameras don't get spat on by themselves."
The Panthers make it interesting with 10 minutes to go. With Marcel Goc scoring from Matt Gilroy and Brad Boyes with Tomas Kopecky screening in front, the play was a veritable "who's who" of "Oh hey that guy still plays." 3-2 Sens
Erik Gudbranson becomes the latest victim of the Canadian Tire Centre's "surprise treadmill" infestation and Clarke MacArthur is forced to sit in the box for 2.
I hear the weather is lovely in Florida in the fall. *holds hand up for high five...lingers...still waiting*
Kevin pointed out to me that Bobby Ryan had a chat with Tim Thomas late in the third period, presumably to ask him if there's any message he'd like delivered to the US Olympic team in February.
A bunch of stupid penalties are taken back and forth and the Sens manage to hold on for the 3-2 win.
Raise the Roof Kid is out of control! He can no longer be contained.
Summary
This game was over after two minutes, or at least the entertainment value was. The Senators turned out a better performance than we've been witness to of late, allowing only 28 shots, but they were still relatively inept at moving the puck up the ice without Karlsson. Presumably every defenseman on the team had to break out of his own zone previously in his career, but it doesn't look like it. Ottawa has a nice 3 game winning streak going now, but they'll need improved competence with the puck from their d-men if they want to beat a team that isn't coming in with a seven (Florida) or four (Columbus) game losing streak.
MacArthur-Turris-Ryan, or what I've decided to call "The Bryan Murray Line," were completely dominant again today. Besides Mason Raymond or Mark Santorelli(?), Clarke MacArthur looks like one of the best value free agent pickups so far this season, and the goals are starting to come for him. It's comforting that Jason Spezza is playing like the 4th best forward right now on the Senators and it's not at all a cause for concern. Praise Murray!
Despite allowing the 4th most goals in the conference so far this season, with the win today, Ottawa sneaks into the 2nd wildcard playoff spot, mostly thanks to having scored most goals in the conference. And I think we know who to thank for that...
Wait, where is my Turris GIF? Damn you Raise the Roof Kid! Damn you!