How Would Senators Players Celebrate If They Scored 4 Goals?
By Luke Peristy
Earlier today, Joe Thornton caused a minor stir when he revealed how he would celebrate after scoring four goals in a game. We won't tell you exactly what he said, but we can provide a graphical representation.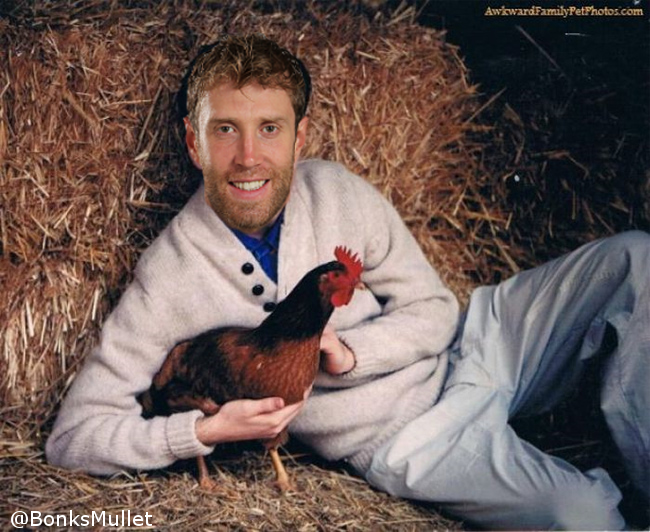 HOW IS THIS BETTER?!?!
Big thanks to @WheelingProbs for the photo!
In an attempt to find more comedy gold, we asked Ottawa Senators players how they would celebrate a four goal performance. Their answers may surprise you!
Cory Conacher: "After the fourth goal, I'd be all, 'Yo, someone check my blood sugar, because that goal was SWEET!'."
Zack Smith: "Whoa, I don't think it would be a good idea for me to score all my goals in one game. Better to break it up a bit."
Chris Phillips: "This would never happen. I give out free beer at my brewery every time I score. I'm running a business, not a charity!"
Matt Kassian
: "Man, if I scored four goals, what would they even call it? A 'Matt Trick'? Hmm, actually that's pretty good. I'm going to tweet that..."
Eric Gryba
: "I'd mount the head of the goalie on the wall over my fireplace, as I do after I snipe anything. Wait, did you say 'goals' or 'goalies'?"
Jean-Gabriel Pageau: "I'm supposed to celebrate after only four goals now?"
Robin Lehner: "I do not understand why you have not yet asked me this question."
Colin Greening: "This actually happened to me back when I was playing for Cornell. If it happened now, I'd probably make a joke about how the number of goals I'd scored was the same as my GPA at Cornell. Did I mention that I went to Cornell?"
Erik Condra
: "Ha ha ha. Very funny, guys..."
Mika Zibanejad: "I think I'd just go right back out there and play hard and try to get that fifth goal. This is a competitive league, and you never want to relax or be too comfortable. That's what being a professional is all about. Um, tell Mr. Murray I said that."