Game Summary - Game 34: "Goodbye Mr. Anderson" - Kings smack the Sens 5-2
by Bonk's Mullet
Good evening Sens fans! It's Saturday in December, so it's time to light a fire, get some hot cocoa, gather in front of the TV with the family, and soak in a part of our proud Canadian heritage with Ron MacLean, Don Cherry, and the gang on Hockey Night in Canada at 7 PM.
Hold on, the game is actually being broadcast on Sportsnet at 2 PM, but what says tradition like an afternoon game against a Southern Californian opponent in the LA Kings? I just got the chills! Speaking of tradition, Paul MacLean decided to start off his morning with his daily breakfast shake-up of the forwards.
MacArthur - Spezza - Condra
Conacher - Turris - Ryan
Greening - Pageau - Neil
Michalek - Smith - Zibanejad
I've decided the only way to appropriately analyse Paul MacLean's lineups is via random sentence generator. So if you ask me what I think about these lines: Deborah's son doesn't look short. Charlie is helpful. I am a plumber.
Marc Methot is still out of the lineup with the flu and Jerry Cowen remains in the Shanaban tank, so emergency call-up teenager/team's most reliable defenceman Cody Ceci stays in the lineup this afternoon.
The Kings are still without their starter Jonathan Quick, but the Sens have been without quick starts all season (Zing!). Number one goaltender Craig Anderson is coming off a good performance against Buffalo, so he gets the start on Saturday. Let's see if he can repea-
1st Period
0:21: Dwight King scores immediately. To describe the play as an attempt to score would be generous. King lobbed the puck at the net in what was most likely an attempt to kill some time while his line mates changed, but Anderson decided he'd foil that plan by deflecting the weak shot into the net with his blocker. Ha! Clock's stopped now, Dwight! 1-0 Kings
2:04: Denis Potvin unveils the keys to the game, which include getting off to a fast start. I guess that's still possib-
4:18: Jeff Carter scores on a shot that, just like the Senators, looked fairly harmless along the ice. Ottawa attempts to remedy both situations by releasing the Lehner. 2-0 Kings
CRAIG ANDERSON WALKS INTO A BAR AND IS DONE AFTER JUST A FEW SHOTS
— Brochenski (@Brochenski) December 14, 2013
7:00: Phil Kessel had some time to kill before the Leafs played tonight, so he got in some afternoon glass-banging.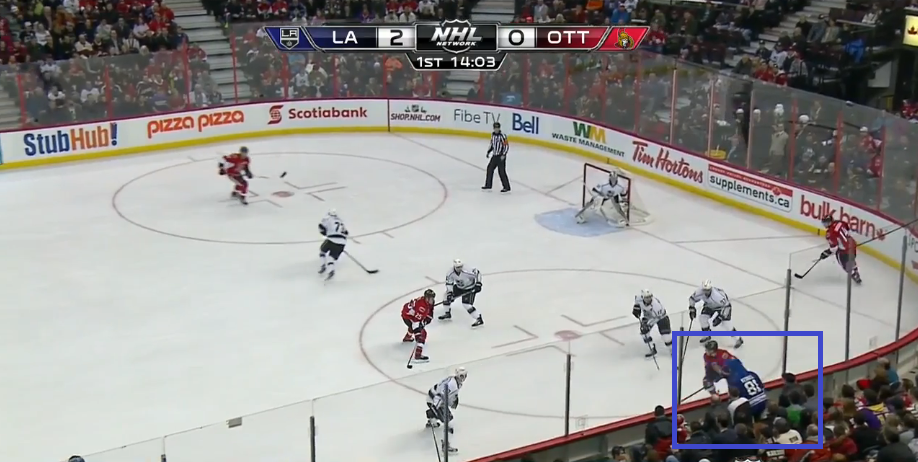 Really digging the new look, Phil. It suits you.
7:17: Willie Mitchell drags down Chris Neil, sending the Sens to the power play. On the power play, Spezza makes his patented No Look Drop Pass To Nobody, clearly failing to understand what Paul MacLean meant by "take advantage of all that open ice,"
10:48: Denis Potvin points out the rink is oval.
12:56: Kopitar knocks down a puck in front and out-muscles Cody Ceci for the rebound, smacking it past Lehner. Brian Lee starts trending on Twitter in Ottawa. 3-0 Kings
13:00-20:00: Things you'd rather experience than hearing a description of the rest of the period:
Phaneuf delivering a blind headshot to Phil Kessel.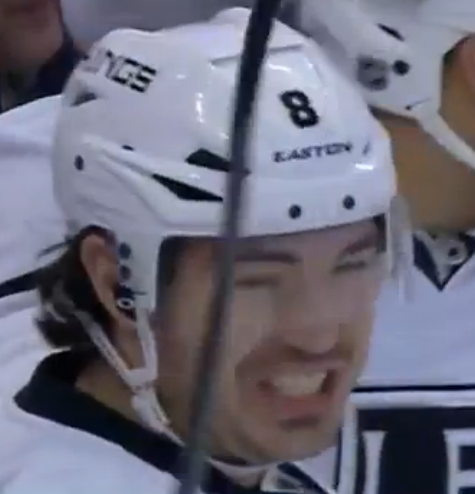 Drew Doughty's happy face
Dion Phaneuf hitting himself in the face with his own stick.
20:00: I ask Chet how he's enjoying his time at the Canadian Tire Centre. "I'm with my Dad and neither of us have spoken in 10 minutes."
they're showing first period highlights here on the scoreboard and it's just a loop of old yeller being shot
— Chet Sellers (@chet_sellers) December 14, 2013
2nd Period
Time actually slows down during the second period, so I've abandoned using the clock. At some point, Chris Neil tries to get his team going with a scrum after the play. And oh man, did it energize the bench!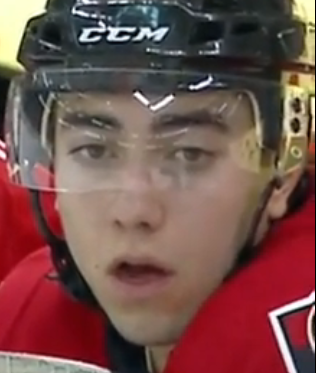 I photoshopped out the line of saliva dripping from his chin.
At some other point, possibly later in the period, Dean Brown uses his excited voice for 2 straight minutes, which almost leads me to believe something is happening. Mika Zibanejad finally blinks.
After Gryba is called for high-sticking, a scrum ensues after the play. Thankfully, the gigantic linesman breaks up Chris Neil and Cory Conacher before they
do any serious damage to each other
.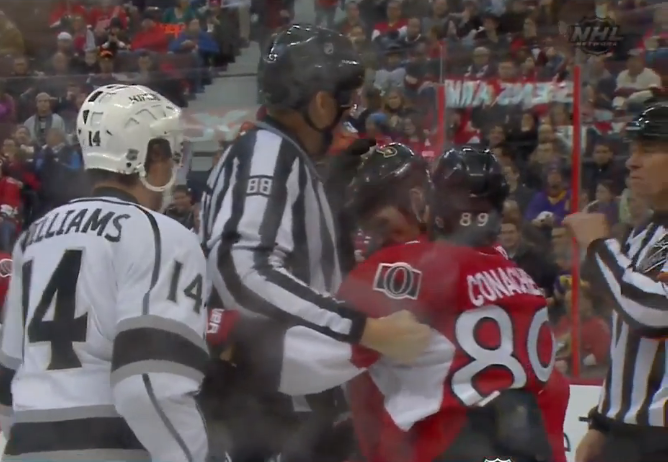 Bryan Murray reportedly made a few calls to see if the gigantic linesman was eligible to play defence.
After Jason Spezza centers the puck out in front, a falling Conacher kicks the puck over to Corvo, who manages to find a hole in Mike Matt Mup Martin Jones. Cory Conacher's kick pass to Corvo was the afternoon's first noted instance of a Senators player using his skates. 3-1 Kings


In an intermission interview, Cory Conacher says "2 PM starts are killing us" before adding, "as are other NHL teams" under his breath.
scoreboard is playing 2nd period highlights now but it's just the scene in neverending story where the horse tries to get out of the mud pit
— Chet Sellers (@chet_sellers) December 14, 2013
3rd Period
Zack Smith almost finishes off a pass in front from Colin Greening, but gets pulled down by Drewfus Doughty. Paul MacLean shakes his power play magic 8 ball, which reads out "SEND A MESSAGE." Greening-Smith-Neil get trotted out on the power play.
After a shockingly unsuccessful attempt on the man advantage, an extremely well-rested Conacher-Turris-Ryan line gets possession deep in the Kings zone. Turris wheels the puck to Karlsson at the point, whose shot handcuffs
Danko
Martin Jones.
3-2 Kings
. Darryl Sutter reacts in the only way he knows how: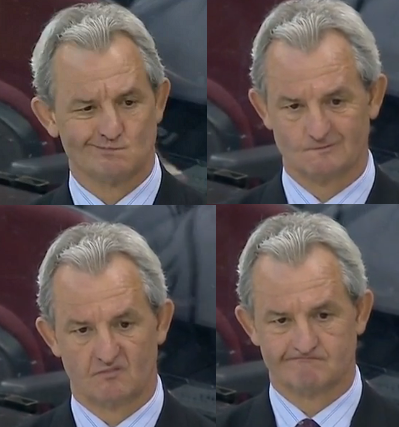 Hat tip to Andy Warhol for the inspiration.
But cheer up Darryl! Things are about to turn around for your club! With 7 minutes to go, Drew Doughty goes coast to coast through the entire Ottawa Senators before being stopped by Lehner. Jarret "Don't Call Me Jared" Stoll knocks in the rebound to make it
4-2 Kings
. In the post-game interviews Paul MacLean gave his patented statement of "Erik Karlsson needs to spend more time playing for our team, and less for the other team," before the media informed him that it
was
in fact Drew Doughty with the end-to-end rush.
The final nail in the coffin comes in the form of a Kings power play late in the game. Patrick Wiercioch gets caught at the blue line, leaving Erik Karlsson alone to defend a mini 2-on-1 rush, which ends with Anze Kopitar scoring his 11th of the season. Paul MacLean is heard yelling "Oh, it was a PK!" as he ushers the Wiercioch-Karlsson pairing off the ice. 5-2 Kings
Sombre Closing Thoughts
In what was actually a fairly competitive effort by the Ottawa Senators against a powerhouse opponent in the Kings, I'm going to point my giant blogger foam finger of blame at Paul MacLean. I can cut him some slack for starting Anderson, given that he's still the team's number one goaltender, and the team doesn't completely want to remove him of value before potentially shipping him off at some point in the next year. It's time to run with Lehner for a while.
More questionable was MacLean's insistence on playing crappy players. I'll let this extremely aesthetically pleasing chart of Sens forwards' TOI do the talking. Note the PP TOI as well:
Blue indicates the leading scorer's TOI. Red indicates players who received more ice time.
So, with that, I end with a plea to Paul MacLean to follow his own self-proclaimed mantra of letting "the best players play."*
*If you believe yourself to currently be following that mantra, please stop following that mantra. Other mantras to consider:
Bobby Ryan plays
Kyle Turris plays
Clarke MacArthur plays
Jason Spezza plays
Mika Zibanejad plays
Erik Karlsson plays
Chris Neil never ever ever ever ever ever ever plays
Thanks Paul!