Game Summary - Game 35: Ottawa plays the Blues, but fans leave happy
Tonight, the Ottawa Senators play the St. Louis Blues, and in the greatest of all Ottawa traditions, much of the pregame discussion focused on goaltending. Paul MacLean decided to hand the conch back to Robin Lehner after Craig Anderson's glasses were shattered early in the game against the LA Kings on Saturday
[citation needed]
. MacLean was quoted as follows on the matter:
"We gave it a lot of discussion, actually, about who gives us the best opportunity. Throughout the discussion was a lot of stuff but it came down to we felt Robin would give us the best chance today." - Paul MacLean
I'm not entirely sure what falls under the realm of "a lot of stuff", but if that stuff included statistics like "save percentage" and "goals against average", it's probable that those two things may have been the deciding factors in the decision to start Lehner.
At the other end of the ice, noted necromancer Ken Hitchcock has performed some voodoo magic and is starting The Reanimated Corpse of Brian Elliott in the very goalie graveyard where he was thought to be buried. My sources are vague on the details of the occult ceremony that Hitchcock orchestrated, but there's been some discussion that "blood must be repaid with blood", and is it just me or has Craig Anderson been looking a little pale lately?
More on this story as it develops, but for now, on to the game!
1st Period
19:36 - Zack Smith takes an early penalty, ostensibly for hitting Alex Steen in the head, but Denis Potvin seems to think it's for Alex Steen being a giant wuss and informs Sportsnet's viewers accordingly.
16:03 - Ottawa strings together three pieces of offensive brilliance. First, Kyle Turris splits the Blues' D forcing Elliott into making a nice save. Seconds later, Bobby Ryan and Erik Karlsson come in on a 2-on-2 where Karlsson takes a nice Ryan feed, but can only tip the puck into Elliott's pad. Karlsson stays with the play, however, and finds Ryan behind the net who centres the puck to a streaking Jean-Gabriel Pageau. Pageau buries the puck high, and the score is
1 - 0 Ottawa
. "Looks like my status as hometown hero is safe for tonight, boys!" says Pageau as he celebrates.
15:29 - Zack Smith penalty again, this time for roughing. During the replay, it's David Backes who is under Potvin's microscope for playing with less strength than Zack Smith. You can't stop Zack Smith, you can only hope to contain him in the penalty box.
7:40 - Erik Karlsson does Erik Karlsson Things as he breaks up a Blues rush and then leads the rush offensively leading to a Jason Spezza chance. Alex Pietrangelo is visibly upset as he realizes what he's up against for the next 12-15 years of Norris trophy voting.
Visual simulation of Alex Pietrangelo's nightmares.
5:54 - Barret Jackman takes a penalty for boarding Kyle Turris and Ottawa takes to the powerplay. Ottawa fails to score as their strategy of "shoot at Brian Elliott" is foiled by the surprising competency of Brian Elliott. "Oh man, looks like this guy finally watched that Martin Gerber game tape Clouston gave him," says Chris Neil.
Meditations on the 1st Period:
Ottawa played an excellent first period punctuated by moments of offensive excellence and defensive discipline.
2nd Period
14:55 - In the words of Dean Brown, Bobby Ryan absolutely bamboozles Roman Polak on his way into the Blues' zone. Nothing comes of the play, although Ryan hands Polak back his jock strap after the whistle. Bamboozles are not a stat tracked by the NHL, but I'm confident Bobby Ryan would be among the top players in bamboozles/60 minutes or BAM/60.

13:52 - Jason Spezza makes Alex Pietrangelo look silly before sending a slapshot off the post. "Oh damn, he's been watching Tom Barrasso game tape, too!" exclaims an increasingly concerned Chris Neil.
10:07 - Jason Spezza finds Milan Michalek streaking to the net. Michalek schools Alex Pietrangelo and rings a shot off the post. Paul MacLean is encouraged by this display of Jason Spezza leading by example.
9:45 - Cory Conacher, Erik Condra, and Jean-Gabriel Pageau get several good chances from point blank range, but can't score. Erik Condra is also leading by example, notes Paul Maclean.
4:15 - After a bad Spezza giveaway at the Ottawa blueline, Alex Steen is stopped by Robin Lehner, who stacks the pads like
so many winky-faced pancakes.
NHL.com prepares a "Steen Stoned!" headline for the online video highlight.
3:10 - Patrick Wiercioch has his shot blocked and St. Louis quickly counterattacks with a Chris Stewart breakaway. Stewart finds Lehner's five-hole and it's a
1 - 1
game. "You have beaten me this time, Stewart, but let's see you do that again!" says Robin Lehner, perhaps a little too confidently.
11.5 - Chris Stewart takes a feed from the left side of Robin Lehner and scores on the one timer. Lehner takes this second goal poorly: "Fool me once, shame on me. Fool me twice, shame on my defenceman, JARED!" "Can't blame him, really. Pretty sure that's how that rhymes goes," says Jared Cowen as he tries to be a good sport about the whole thing.
2 - 1 Blues.
Meditations on the 2nd Period of play:
A couple of defensive breakdowns and failure to convert on offensive opportunities has led to Ottawa having to climb yet another mountain in the final 20 minutes. However, they are only down by one and it's not like teams can't blow leads in the 3rd period.
3rd Period
19:48 - Sportsnet displays a helpful graphic that informs me that St. Louis is 14-0-1 when leading after two periods. Apparently it's only the other teams that can blow leads in the 3rd period.
18:50 - Chris Neil and Barret Jackman have a fight. Chris Stewart and Clarke MacArthur are then assessed unsportsmanlike conduct penalties. With both teams having one guy named "Chris" and one guy who's got a name from Victorian England in the box, play continues.
14:16 - Bobby Ryan takes a pass from Kyle Turris behind the St. Louis defense and slides the puck past Brian Ellioyt. Ottawa emotes vigorously and with a positive demeanor. There must be a better way of saying that, though. Maybe if there was a short memorable phrase of some sort that would adequately describe the manner of the celebration. Back to the drawing board, I guess.
2 - 2.
10:15 - Erik Karlsson tries to do An Erik Karlsson Thing, but is foiled by Colin Greening. Karlsson informs Greening that he would do well to keep his stick off Karlsson's puck in the future. Greening, for his part, makes a face like he just ran over one of Karlsson's small, fuzzy dogs.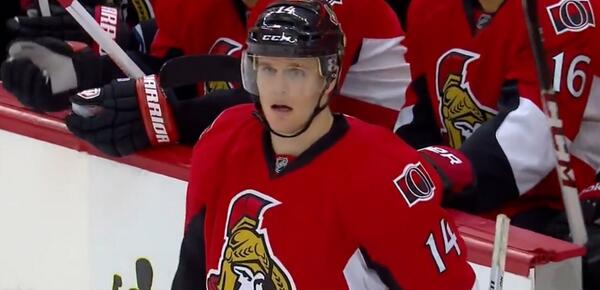 "What have I done? WHAT HAVE I DONE?!?!"
2:11 - Robin Lehner takes a puck off his throat protector which causes it to snap in half. "Throat is stronger than protector. I only wear this so as not to alarm the weak," explains Lehner as he skates back to his crease.
0.0 - St. Louis wisely decides that their best chance to win the game involves trying to beat Robin Lehner in a shootout. Neither team scores and the game goes to overtime.
Overtime
4:15 - Erik Karlsson dangles around three Blues players and puts a shot off the post from a bad angle. The lesson, as always, is that Erik Karlsson is so good it's silly. I expect him to be deking through entire teams twice before the playoffs.
3:49 - Jason Spezza draws a hooking penalty and Ottawa goes to the power play. Despite generating several quality chances, the Sens can't score and the game remains tied.
A fanbase in turmoil cries out for a hero.
1:01 - Cody Ceci wrists a puck from the point that beats Brian Elliott over his right shoulder. Jean-Gabriel Pageau reluctantly gives up the "Ottawa's Favourite Son!" shirt he's been wearing for the past 8 months. Ceci makes a note to run it through the washing machine a few times. The rest of the Senators pat Ceci on the head to give him positive re-enforcement.
Who's a good rookie? Who's a good rookie? It's you! It's you, isn't it! Yeaaaaaah, good rookie!
Ottawa wins 3 - 2 in overtime!
The Wisdom
Tonight, Ottawa put together a quality performance against a quality team and came away with two points. The team seems to have turned the corner in a lot of ways. Jared Cowen played 26 minutes and looked pretty good during most of them. Bobby Ryan played nearly 20 minutes a few games removed from a game where he played only 11. Cody Ceci has looked so excellent in his first three games, Marc Methot may never get a flu shot again! Ottawa has been a positive Corsi team for their last twelve games and seem to be able to play with anyone whenever they get the goaltending.

There still remains little room for error as Ottawa is now 3 points back of Toronto for the last wild card spot, but this team's become fun to watch again, and that's all you can really ask for.