Game Summary - Game 33: Ottawa coasts past Buffalo on the back of Anderson
For the second straight game, the Ottawa Senators are facing the Buffalo Sabres. Unlike their last meeting, however, Ottawa will not be playing their second of back-to-back games, and they will be at home. These are two encouraging developments for a team that only just managed to eke out a shootout loss against the Sabres on Tuesday.
But we go now to our top story: following a hit to the head of Zemgus Girgensons, Jared Cowen was suspended for two games in a decision that many are hailing as a gross miscarriage healthy and problem-free delivery of justice (the mother, Brendan Shanahan, is resting peacefully). In addition, Marc Methot is out with a case of the flu that seems to have struck him suspiciously close to the North American premiere date of The Hobbit: The Desolation of Smaug.
Ottawa's sudden loss of two defencemen has led to the emergency call-up of 2012 first-round draft pick Cody Ceci. Playoff hero and
frequent Canadian Tire Centre crowd muse
Jean-Gabriel Pageau has also been called up from Binghamton. Needless to say, Twitter has been all, uh, atwitter at this news. Even as I speak, a virtual army is readying itself to anoint Ceci a bust at the first sign of defensive deficiency, and also to proclaim that any problems with Pageau's play are due to his lack of quality linemates. It should be quite a show. Let's see what happens.
17:50 - Jamie McBain rips a shot from the point that gets through Anderson after a Sabres faceoff win, but John Scott is ruled to have been interfering with Anderson on the play. Ottawa receives a power play. Ottawa fails to score with the man advantage after Paul Maclean decides that the real man advantage is just allowing John Scott to stay on the ice.
16:30 - Cody Ceci looks good early while leading the rush on the power play. When asked where he got his poise from, he responds, "I've been really watching the Karlsson guy a lot . . . no, not Erik. Ludwig Karlsson in Binghamton. He's great. Who's Erik?"
10:38 - Kyle Turris throws a puck towards the goalmouth from deep in the Buffalo zone and finds Bobby Ryan answers his prayer with a goal. It looked like the Conacher-Turris-Ryan line planned to run this set play as they definitely took advantage of Tyler Myers' soul-crushing apathy.
1 - 0 Ottawa.
4:17 - Knowing that Fenwick Tied was no longer being tracked, Ottawa takes their foot off the gas pedal. Then they put the car in park. Then they turn off the car. Then they get out of the car. Then they have a nap.
2:59 - Steve Ott is sprung on a breakaway, but Anderson makes the pad save. Ott begins his application for Latvian citizenship because "it might help." Ottawa still hasn't recorded a shot on goal since the Ryan tally. Zack Smith takes a high-sticking penalty behind the play making that situation unlikely to change in the immediate future.
2:21 - Tyler Ennis skates around the Ottawa net, comes out in front, and scores on Anderson. Ottawa's famous "Two Minutes or Less!" penalty kill strikes again, as Chris Phillips' patented "Point at the guy with the puck" move somehow fails to prevent Ennis from scoring.
1 - 1.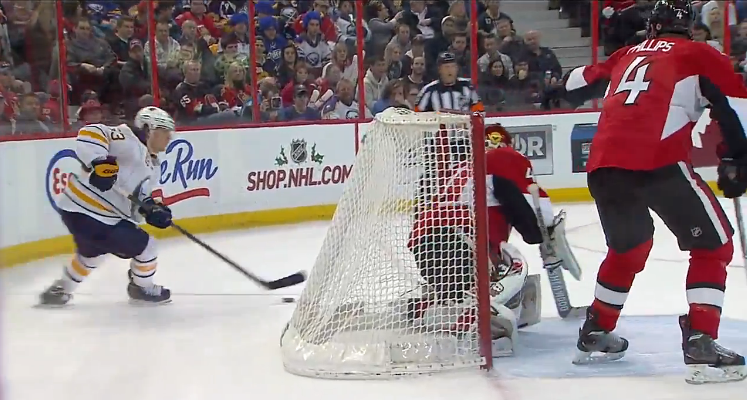 "This is not the open goal mouth you're looking for."
1:51 - Ottawa gets their first shot since the Bobby Ryan goal.
A Kōan Relating to the 1st Period:
One day, Cody Ceci asked Zen Master Paul Maclean ,"Why is it that though I have never played with men of such stature, I still lead the team in ice time?" Paul Maclean replied, "Because you lack experience, you lack the knowledge of how to make mistakes," and Cody Ceci was enlightened.
2nd Period
19:13 - Erik Karlsson takes a penalty after engaging in some light holding. On the ensuing penalty kill, Craig Anderson is forced to make what Rick Jeanerette calls "a whale of a save." A whale of a save is not to be confused with "save of a whale" which was the Ottawa Senators called their Peter Sidorkiewicz reclamation project.
15:30 - John Scott trips Joe Corvo and Ottawa takes to the power play. Zack Smith scores off a Kyle Turris feed that deflects off of Scott's skate seconds after he comes out of the box. Bobby Ryan did much of the legwork earlier in the play and is rightly credited with one of the better secondary assists you're ever likely to see. It truly took the efforts of both teams to score this goal, however. It's amazing what two disparate groups can do when they work together.
2 - 1 Ottawa.
11:50 - A few optimistic Senators fans begin a chant of "Miller! Miller!" Later on they chant "Milkman! Milkman!" and "Chimney-Sweep! Chimney-Sweep!" and it becomes obvious that they are merely chanting defunct forms of employment.
8:52 - Cody McCormick and Eric Gryba briefly engage in a fight. McCormick eventually sends Gryba stumbling backwards, not with a punch as originally suspected, but by telling Gryba, "I'm an animal rights activist." Gryba wanted nothing to do with him after that.
0:42 - Ottawa benefits from another quick whistle as Buffalo crashes the net around Anderson. I mean, Buffalo didn't actually score this time, but based on their history with refs and pucks around the crease, you could understand if they were starting to get a little antsy. It'd be like if Ottawa's goaltenders suddenly started letting a lot of goals in through the five-hole, or if Ottawa's owner suddenly stopped spending money for no apparent reason.
A Kōan Relating to the 2nd Period:
The Zen Master, Chet Sellers, posed the following riddle on Twitter:
3 senators playing tonight have 3 Cs in their name. tweet the answer to @LukePeristy for a mention in his http://t.co/0KSEZCFj14 recap!
— Chet Sellers (@chet_sellers) December 13, 2013
The young student,
@yahongc
, was quick to answer.
@chet_sellers @LukePeristy Cory Conacher, Cody Ceci, Patrick Wiercioch.
— Yahong Christmas! (@yahongc) December 13, 2013
Though many others answered the same, I asked them, "What good is it to walk the in path of another? What glory can be gained?" and they were enlightened.
If you came here to read about hockey, I'm really sorry.
3rd Period
16:45 - The crowd begins its first "Pageau" chant of the evening, no doubt inspired by the dramatic reenactment he was spotted performing for Cody Ceci on the Ottawa bench. "And just as I was sniping it, Subban's stick caught me in the face and knocked out my tooth, so he got a penalty too! Man, that game was off the CHAIN! You shoulda been there. They were going to name bridges after me, you know."
13:55 - Cody Ceci gets his pocket picked in the defensive zone leading to some pressure from Buffalo. It's one of Ceci's more obvious mistakes on the night, but as they say, "You can't spell 'turnover in the defensive zone by Cody Ceci' without 'Cody Ceci'."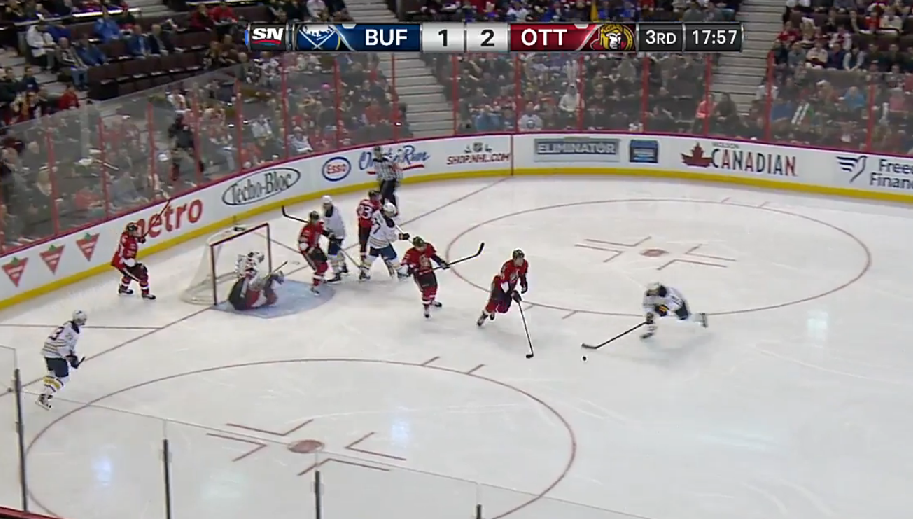 Anderson, like Sens fans, prefers to experience the game in the fetal position.
12:37 - Mika Zibanejad gets a partial breakaway, but fires the puck into Miller's pad. Frustrated at his failure to score, Zibanejad asks Bobby Ryan how to better raise the puck over the goaltender. Bobby Ryan responds, "The question you should ask yourself is, 'Before I raise this puck, should I first lower myself?'" and Zibanejad was enlightened.
8:29 - Drew Stafford draws a penalty from Eric Gryba as he takes the puck to the net. Ottawa weathers the storm thanks to some fine goaltending from Craig Anderson. "No worries here, guys. I've got us covered," says Anderson to his penalty killers.
5:04 - Erik Karlsson makes a turnover at the Sabres blueline leading to a Drew Stafford breakaway. Once again, Craig Anderson makes the save. Anderson laughs. "Ha, you really think Drew Stafford can score on me, guys? Let's face it: the guy's not exactly Luke Schenn out there."
2:05 - Girgensons draws a penalty from Milan Michalek with time running out in the 3rd period. Craig Anderson starts to become increasingly frustrated. "Yeah guys, let's just make this as hard as possible for me. One goal lead late in the third period? Oh no worries, Craig's got it." Buffalo pulls Miller as time winds down, but Ottawa hangs on for the win. After the game, Craig Anderson tells Robin Lehner "The best way to win in the shootout is to win before the shootout," and Lehner was enlightened.
Ottawa wins 2 - 1!
Not actually brought to you by Techo-Bloc
The Wisdom
This game was the spiritual sibling of the Monday's win. On Monday, strong play from the skaters proved to be the difference despite some dodgy goaltending. Tonight, strong play from the goaltending proved to be the difference despite some dodgy skating. Cody Ceci looked very good in his NHL debut and I expect to see more of him in the coming games. And let's stop for a moment and acknowledge how adorable his mother's reaction is to his first NHL game . . .
It's hard to find a forward to single out for exceptional performance, but Jason Spezza won the vast majority of the faceoffs he took, and Mika Zibanejad looked consistently dangerous all night.
Ottawa's next game is Saturday afternoon against the L.A. Kings. This time it's the Kings who are on the long road trip, so lets see how much you like getting up at 11 AM to watch hockey 3 time zones away, Wil Wheaton!