Game Summary: Game 22 - Sens Lose to Wild, Heatley Scores, Hockey is Dumb
Tonight's hockey game in Ottawa featured a team on the second night of back-to-back games fresh off a humiliating away loss to a team that made Danny Briere rich. What you might not expect is that the team I'm referring to happens to be the Minnesota Wild. Indeed, if you thought Ottawa's 5-2 loss to the Flyers was depressing, you should have seen Minnesota's 6-2 loss to Montreal. Things were so bad for the Wild last night, they had to put in little known backup
Darcy Kuemper
. Kuemper is an NHL rookie, but his main claim to fame is that his face looks like a mashup of
Dustin Brown
and comedian
Anthony Jeselnik
. Leaving aside Kuemper's resemblance to an insulting pest who makes people laugh and Anthony Jeselnik, Kuemper's presence in last night's game gave Josh Harding half the night off. As such, Minnesota started somewhat rested Harding while Ottawa countered with
starter
goalie who should be the backup
starter(?) Craig Anderson.
Minnesota also dressed two Senators super-villains in Dany Heatley and Matt Cooke. Heatley, of course, is hated by Sens fans due to his much publicized trade request and subsequent hamstringing of Bryan Murray. Cooke, meanwhile, is hated by everyone everywhere due to his much publicized being a terrible person and subsequent Achilles tendon-ing of Erik Karlsson last season. Which player would more feel the wrath of thousands of angry Sens fans and possibly as many empty seats? Let's find out.
1st Period
18:55 - Matt Cooke steps on the ice to a generous smattering of boos. A minute later Dany Heatley receives the same treatment. Ottawa fans really giving these two the business so far as they are booing with all the gusto of several Buddhist monks.
15:57 - Jason Spezza picks up a loose puck and skates unopposed into the slot, but can't beat Harding. Spezza is visibly frustrated on the play. He skates back to the bench looking like he just drank sour merlk.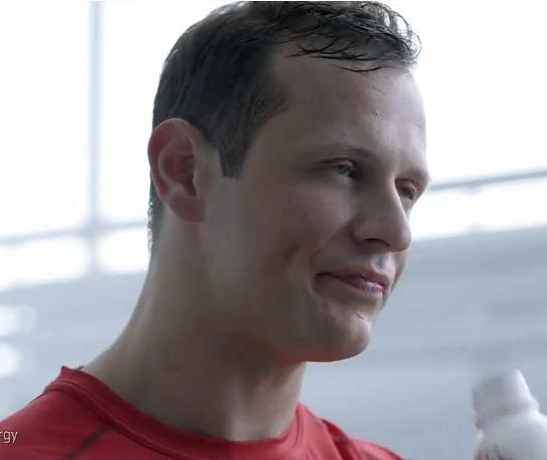 "I will score again! Merlk my words..."
14:24 - Zack Smith makes a terrible giveaway behind his own net leading to a great Minnesota chance and a Jared Cowen interference penalty. A few seconds into the penalty, Clarke MacArthur picks off a pass and streaks in on a 2-on-1.5 with Kyle Turris. MacArthur evaluates all possible options in a matter of milliseconds and determines that the correct play is to make an outrageous between-the-legs pass to Turris. Turris' shot squeaks past Harding since it would have been a crime against hockey to have that pass go to waste.
1 - 0 Sens
That's $98 Million worth of Ryan Suter that MacArthur is making look foolish, there.
13:07 - After Ottawa suffers one of their patented defensive breakdowns, Jason Pominville ties the game from the left side of Ottawa's net. No one actually saw this goal since they were all still too busy smoking a cigarette following the Turris goal.
1 - 1 Tie
8:49 - Erik Condra, Derek Grant, and Mika Zibanejad crash the net chasing a rebound and Zibanejad bangs the puck home. Zibanejad was flat on his back at the time. When asked how he scored from such a position, Zibanejad responds, "I just laid there and thought of Sweden".
2 - 1 Ottawa
More hockey happened during the rest of the period. I can't be more specific than that since I spent the remainder of the period watching
every
single
gif
of the Clarke MacArthur assist over and over again. Time well spent, in my opinion.
Reflections upon the first period of play: Ottawa looked like a different team than the one that played last night in Philadelphia. Barring a minor hiccup on the penalty kill, Ottawa played competent looking hockey that was full of effort, creativity, and inspiration. The shots at the conclusion of the period were 18 to 6 in favour of Ottawa, and that's absolutely a reflection of the play. Mup Inflamation Level: Smoldering
2nd Period
17:00 - A harmless looking shot from Brodin at the point flutters past Anderson. Dany Heatley gets an assist on the play. "Dany Heatley got a point? How can things possibly get any worse?!?!" cry Sens fans. 2 - 2 Tie

13:45 - Dany Heatley pokes the puck past Anderson on a harmless looking play at the side of the Ottawa net. Erik Karlsson is noted by the TSN commentators to have been lightly fanning the puck with his stick rather than clearing it. Craig Anderson is noted to have been just standing there. Dany Heatley is noted to have been just a little too happy. 3 - 2 Minnesota

12:54 - Mark Borowiecki receives a penalty for shoving Nino Niederreiter into the boards. I'm really starting to think Borowiecki is simply too strong to play in this league. 15 seconds later, Koivu appears to score but the goal is waved off after it is ruled that he kicked the puck. Twitter is inundated by bitter Habs fans who insist that the goal should count. It's like they all get an alert whenever a kicked in goal is waved off or something.

8:34 - TSN notes that Mika Zibanejad only has 3:21 TOI so far. If only he was keeping his game simple by crashing the net and getting the garbage goals and--wait, he's already been doing that this game? Alright, I've got nothing then.

5:45 - Dany Heatley and Jared Cowen engage in a footrace to retrieve a puck from the Ottawa zone. Some fans take the opportunity to visit the concessions as both players slowly drift towards the puck in the corner.

0:41 - With Ottawa shorthanded, the Sens generate a 3-on-2 chance. Zack Smith outwaits a sprawling Wild defenseman only to ring his shot off the post. "I'm sure that won't become important later." I say to no one in particular.
Meditations apropos of the penultimate period of play:
Goaltending let Ottawa down more than anything in that period. Dany "Doucheldorf" Heatley getting two points during the period added insult to injury. The Senators need to play Heatley more physically in the 3rd period. Here's Chris Phillips demonstrating how it's done.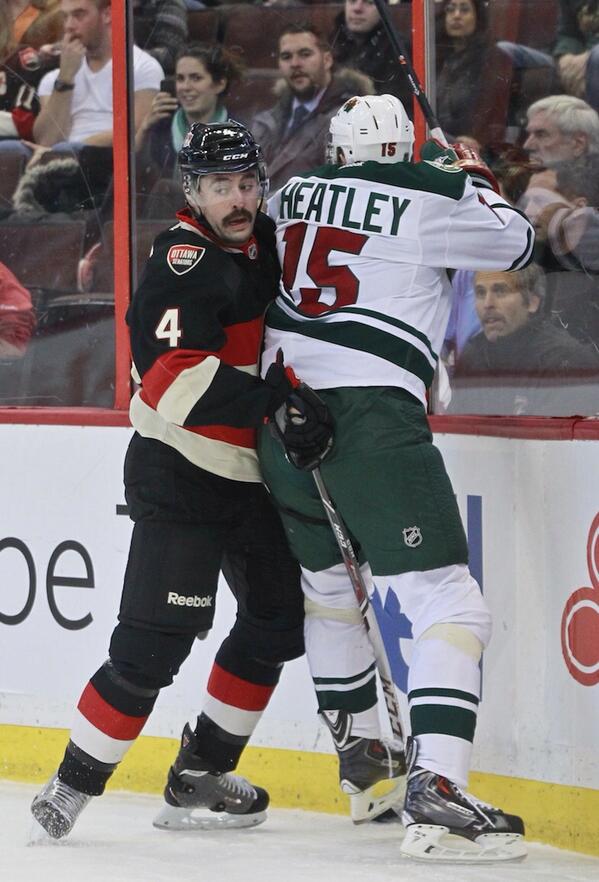 Chris Phillips: Smooth operator.
Mup Inflammation Level: Damp
3rd Period
19:07 - Marc Methot delivers an absolutely perfect hip check on Granlund. A Shakira song starts to play for no apparent reason.
"I have big hips and I cannot lie..." That's how that song goes, right?
16:49 - Dany Heatley takes a hooking penalty. The Ottawa crowd cheers in approval of his contribution to the team. Ottawa spitefully refuses to accept any help from Heatley and spends the next two minutes looking terrible.
11:21 - Bobby Ryan puts a shot off the wrong part of the post, but Kyle Turris draws a hooking penalty on the play and Ottawa goes back to the powerplay. Seconds later, The Reanimated Corpse of Milan Michalek scores on a rebound to tie the game at 3. Ottawa officially wins the Heatley trade. World peace is imminent. 3 - 3 Tie

5:25 - Erik Karlsson senses that the time to carpe the diem has arrived and begins to put his big boy pants on. On successive shifts he hits a streaking Bobby Ryan with a perfect 2.5 line breakout pass and begins to disrespect forechecks in the neutral zone on his way to the Minnesota end.

2:57 - Mikko Koivu assassinates my hopes and dreams with a perfect shot over Anderson's right shoulder. Several Senators thoughtfully give Koivu an unimpeded path to the slot on the play. 4 - 3 Minnesota

0:00 - Ottawa pulls Anderson just as soon as they can get possession in the Wild zone which takes a few minutes. Paul Maclean tells the team to "Run the goal scoring play", but the Senators' attempts are ultimately unsuccessful. The game ends.

Final Score: 4 - 3 Minnesota
The Wisdom
Ottawa played well enough to win this game. That they did not win was indicative of the fact that they failed to consistently do the little things well. You know, the little things like "goaltending" or "playing defense". Still, to move from "losing fantastically and epically" to "losing depressingly" in a 24 hour span has to be considered a good sign. Soon this team will be "losing barely" and then maybe one day, "winning ugly".

Dare to dream, Sens fans. Dare to dream.