Game Summary - Game 14: When you wish upon a shootout loss to the Stars
by Bonk's Mullet
Sunday's game against the Stars was a microcosm of the entire Ottawa Senators season so far. The game featured an awkward 1 PM start, the return of an aging ex-teammate, an early two goal deficit, a potent offense counterbalanced by impotent defense, and a solid goaltending performance wasted on account of being outshot by a Western conference opponent. Oh, and don't forget a loser point!
Here is the summary of Sunday's 4-3 shootout loss to the Stars.
1st Period
The Senators had the best start to an afternoon game of the season as the worst thing that happened to them in the first 30 seconds was a reviewed no-goal for the Stars! We did it!
For the second game in a row, Paul MacLean played Jason Spezza with Cory Conacher and Chris Neil. They say a picture is worth a thousand words, so here's how that went: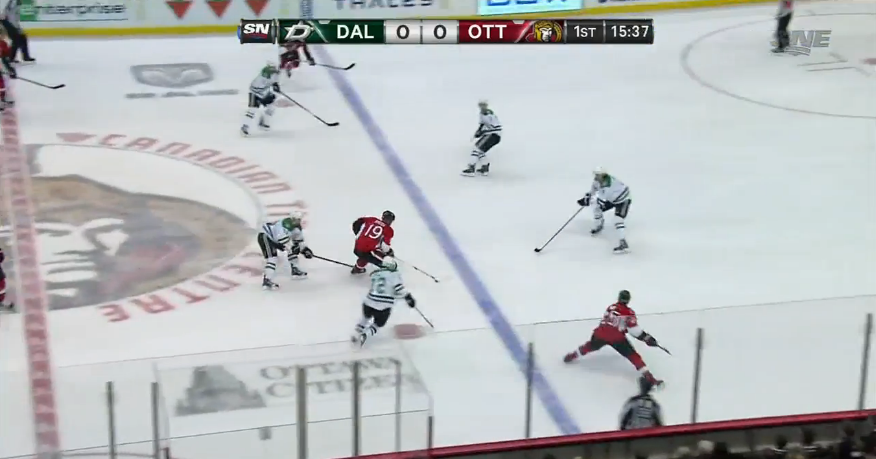 You did your best, Chris.
Patrick Wiercioch took a holding penalty, which was followed up by an Alex Chiasson high stick on Derek Grant. During the 4-on-4, Jason Spezza was freed from the shackles of Chris Neil and was played alongside Milan Michalek. Spezza recorded a shot on goal almost immediately, resulting in an impromptu celebration worthy of an allergy medication commercial:
Filmed minutes from Scotiabank Place.
On the ensuing power play, Bobby Ryan, easily the best player in Sunday's game, got a chance in tight, but Lehtonen managed to poke the puck away. As Ryan skated off to the bench, wishing for another crack at that chance a giant "FORESHADOWING" ad blinked on the boards.
Back to 5-on-5, our #fearless leader gets reunited with Neil and Conacher. Clearly under the instructions of coach Maclean to employ a dump-and-chase strategy, Spezza dumps one from just over the red line, resulting in an icing call. The perfect storm of terribleness produced the best reaction shot of the season so far:
C is for contempt
After a poorly-timed pinch by Jared Cowen, Ray Whitney broke through the neutral zone with a partial breakaway down the wing. In a touching tribute to former-Senator Sergei Gonchar, making his first return to Ottawa, Erik Karlsson made absolutely no effort to backcheck, allowing Whitney to clap one top corner. 1-0 Stars
Shots were 19-9 for the Stars at the end of the first period, causing Lehner to complain to the coaching staff that the team always makes things easier for Anderson.
2nd Period
The Sens give up an early 3-on-2. One of the two is Zack Smith, so 2-0 Stars.
In an effort to swing momentum back in favour of his team, Chris Neil takes things into his own hands. And by things I mean his stick and into his own hands I mean a Star's face. Neil goes off for 4 minutes, as Dean Brown explain that "visible injury" doesn't necessarily mean blood for the 50th straight broadcast. Congratulations Dean!
Ryan, Turris, and Karlsson break in on a 3-on-1. Beauty unfolds: 2-1 Stars
Thanks to /u/n0wl on Reddit Hockey for the GIF
It was Armed Forces night at the Canadian Tire Centre on Sunday, which is the only explanation for how Antoine Roussel was inexplicably sniped in the face off a faceoff:
Thanks to /u/n0wl on Reddit Hockey for the GIF
The heavens open up and the hockey Gods smile down on the Senators as Jason Spezza appears on a line with Mika Zibanejad and Colin Greening.
Hell opens up when Matt Kassian (remember him?) records a glorious scoring chance and then breaks up a fight in front of the Stars net after a roughing penalty on Goligoski.
An errant Kyle Turris shot on the power play caroms off the boards and right onto the stick of former Chris Neil-linemate Jason Spezza as he buries a gimme past Lehtonen. The crowd rejoices! 2-2 game
3rd Period
The crowd face palms as Borowiecki buries a gimme past Anderson. Antoine Roussel (RIP) is credited with the goal, definitively proving once and for all that Karma does not exist. 3-2 Stars
Thanks to /u/n0wl on Reddit Hockey for the GIF
With under 6 minutes to go, Clarke MacArthur faces an open net with the puck on his stick. Fans check their program to double check that Erik Condra was indeed out with an injury as he fires the puck over the net.
With 10 seconds to go, Milan Michalek makes a great forecheck and the puck squirts out to Bobby Ryan alone in front of the net. The greatest thing ever happens: 3-3 game
Thanks again to /u/n0wl
Possibly the greatest celebration in Sens history. I'm trying out this MediaCrush thing. It's supposedly faster to load than GIFs. Let me know if you have problems with it.
Overtime
Minutes in to overtime, Nichushkin was tripped up on the way to the net resulting in this scary incident:
Anderson was loaded on to a stretcher and taken off the ice. I found this particular angle quite chilling: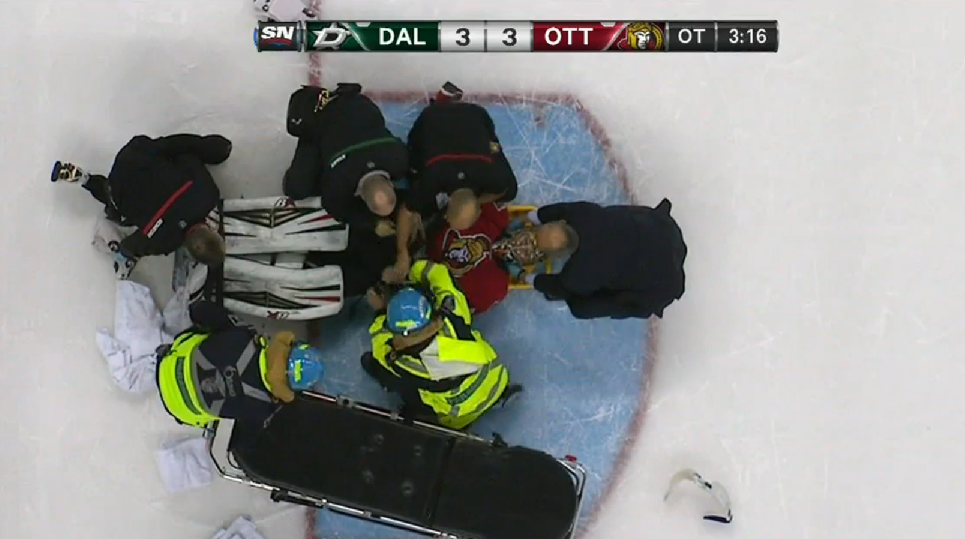 He waved to the crowd as he was taken off the ice.
Thanks again n0wl-meister.
Much to the relief of fans and players of both teams, Shawn "Don't call me Mendes" McKenzie of Sportsnet reported minutes later that Anderson walked to the dressing room on his own. After the game, MacLean reported that Andy will be reevaluated for a stiff neck.
With the building absolutely silent, nothing else happened in OT. Jamie Benn scored the only goal on the shootout on Lehner and the Stars took the game, giving the Sens another loser point.
Bonus Ryan GIF
Closing Thoughts
The decision to stick with Neil-Spezza-Conacher is probably the most I've disagreed with a Senators coach's lineup decision other than when Clouston insisted on playing 6 players at a time. While together at even strength, the line recorded
zero shot attempts
in 3 of 4 periods they played together (
h/t Travis Yost
) over the last two games. Luckily MacLean put an end to that experiment, and hopefully for good.
Needless to say, MacArthur-Turris-Ryan continues to be one of the most potent lines in the league. Turris and Ryan, the best two forwards on the ice for either team, each recorded their 14th point in as many games. Some Swedish kid listed as a defenseman recorded his 15th point and moved into a tie for 14th in league scoring with Ovechkin, Datsyuk, Perry, and others. Karlsson has one more point than some scrub named Pernell Karl.
Once again, blatant defensive errors cost the team. I'm sick of writing about it, and I'm sick of joking about it. The team is getting incredible performances out of their top forwards on most nights, but the d-men continue to make terrible mistakes time and time again. The decision not to acquire another top 4 defenseman has cost the team dearly.
Are we At the Disco!? because I'm starting to Panic.