Game Summary - Game 23: Senators @ Red Wings - 5-on-3 Night
by Chet Sellers
Folks, ordinarily it's not too hard to find a storyline for a Senators game, no matter who the opponent is. Leafs or Habs? Easy. Bruins, Penguins, Sabres, Flyers? There's a rivalry there. Devils, Capitals, Rangers? Hey, we met in the playoffs. Lightning? Expansion draft buddies!
But I'll tell you, I'm really struggling with an angle on this Red Wings game. I'm looking at the lineup they're icing tonight, and yeah, they've got some good players - Datsyuk, Zetterberg, Kronwall - but nobody who's got any real history with the Senators. Is it because they've played in the Western Conference for so many years that it's so hard to make a connection here? I mean, is there
any
reason why Senators fans should get worked up about playing the Red Wings?
Apparently they're giving out this bobblehead tonight, but I'll be honest - I don't even recognize who this is.
Eh, why bother overthinking these things? Two teams with no real history, rivalry, or reason for animosity face each other tonight, and maybe tonight's the night the Senators end their recent losing streak. Let's find out?
First Period
The Senators come out fired up! No, wait, "up" is not the preposition I'm looking for. Fired ON, that's it. Detroit starts the game outshooting Ottawa 7-0, and it isn't until over eight minutes in when Jason Spezza registers a shot on net for the Senators. Pretty soon shots are 12-3, and that's when Chris Neil, gritologist, decides he's had enough and decides it's time to fire "up" his team, in this case by taking a hooking penalty. Darren Helm scores on the ensuing power play.
1-0 Wings
, obviously.
Are we not giving Chris Neil enough credit, though? Only a minute later, Clarke MacArthur takes a wraparound feed from Bobby Ryan, fires once, and then puts his own rebound away.
1-1
. And only a minute after
that
, Neil shoots a weak wrister that banks off two Red Wings and into the net, just the way he drew it up.
2-1 Senators
. Is this what momentum feels like? "Absolutely," says Chris Neil. "Really?" says Robin Lehner, icing a few bruises during intermission.
Second Period
The deal with momentum, though, is that it's a fleeting thing that needs to be nurtured carefully, like the spark of a campfire. It would be easy for the Sens to clamp down and try to sit on a 2-1 lead, but that's the kind of conservative, risk-averse strategy that squanders the momentum that earned that lead in the first place. Three minutes in, Jared Cowen, still looking to solidify his role in the lineup, draws another hooking penalty trying to keep his team fired up and in the game. "Not like that, rook," says Chris Phillips, who draws a much more veteran holding penalty to join Cowen in the box and turn it into a full-on mustache party. Can the Senators kill off a near-two-minute 5-on-3?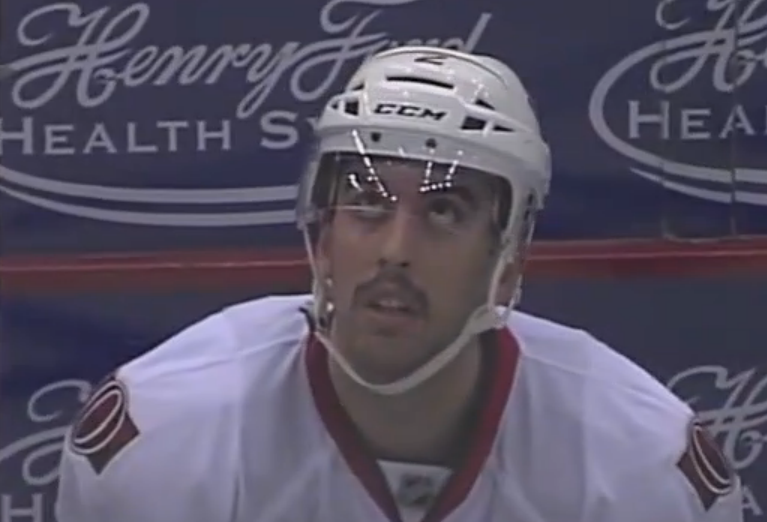 "We're being outshot by how much? That can't be right."
Of course they can - that's how momentum works. A few minutes later Dan Cleary crashes into Robin Lehner and draws a goaltender interference penalty to put the Senators on the power play for the first time in the game. After Lehner politely declines to kill Cleary, the Senators fail to score, and so Chris Neil escalates the Senators' momentum by taking matters into his own hands, in this case those "matters" being Brendan Smith's face. After that, everything gets pretty chippy. Wait, no, not "chippy", what is the word I'm looking for . . . "floppy"?
"AHAHAHA TICKLES, TICKLES, QUIT IT!"
If you stabilize the footage you can see a man with an umbrella firing from behind the visitor's bench.
Yeah, floppy.
Third Period
I didn't mention this earlier, but Jason Spezza took a questionable slashing penalty late in the second period. That becomes relevant when Mark Borowiecki takes a tripping penalty 29 seconds into the third, which puts Detroit on a 5-on-3 again, only this time it results in a Pavel Datsyuk goal.
2-2
. Momentum said there'd be days like this.
But! A surprisingly-healthy Darren Helm takes a hooking call once we're back to even strength, and then Kyle Quincey takes a four-minute high-sticking call! Now the
Senators
are on a 5-on-3, and Bobby Ryan scores a beauty from the side of the net!
3-2 Senators!
Slowly but surely, momentum sparked becomes momentum smoldering for the Senators. The Red Wings see the writing on the wall and dive and dive, trying to turn the momentum ship around:
Pavel Datsyuk gets an ice cream headache. Courtesy DaPuddleduck.
UPDATE: New footage has come to light, and maybe this isn't a dive? Read our comments!
Doesn't matter - the Senators are on a roll. They prove it only a few minutes later when Jared Cowen and Borowiecki both go to the box again, putting the Red Wings on
another
5-on-3, which of course the Senators kill off thanks to a little bit of momentum and a lot of Robin Lehner.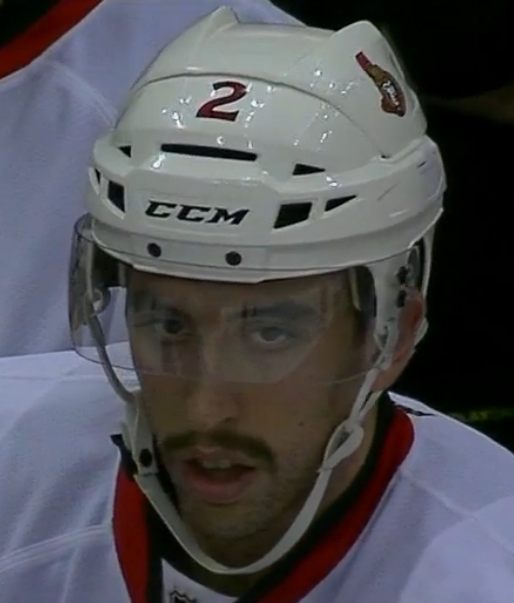 "Them boys sure do dive fancy. Ma won't never believe it."
At this point I hope you had your money on a total Red Wings meltdown, because that's what happens, with the refs blowing enough whistles before the end of the game to make the Joe Louis Arena sound like Carnaval. The Senators essentially spend the last seven minutes of the third on the power play, and at some point, Clarke MacArthur scores again!
4-2 Senators
is your final
!
Closing Thoughts
You know what? Even though, coming into this game, the Senators really had no reason to get motivated to play the Red Wings, tonight's game might change all that in the future! We had a lot of penalties, a lot of dives, some fights and skirmishes, and two pretty upset teams by the end of the night. Looking at my schedule, I see that these two teams face off again in a week, this time in Ottawa! If tonight's game is any indication, that could be an emotional night!
Robin Lehner is my first star of the evening, Clarke MacArthur is my second. Third star goes to the entire Detroit Red Wings for being two-sport superstars. Just remember, boys - diving is in the
Summer
Olympics. In any event, the Senators got a much needed win tonight against a divisional rival, and now they're off to Carolina to finish up their weekend back-to-back. See you tomorrow night!